Food and Farming Offer Brightness in Bleak Economy
2009-06-16
The Yorkshire Agricultural Society unveils its sustainably built £5.1million Regional Agricultural Centre tomorrow (17th June). The project aims to provide a focus for agriculture in the North of England and inject new life into the rural economy. It will also support the region's farmers and producers and offer new routes to market for them.
£5.1 million Regional Agricultural Centre Opens to Support Yorkshire's Rural Economy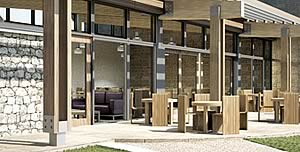 "Farming and the food industry are two of the bright spots of the economy; together they form one of the few sectors to show positive growth last year.

Food and farming are a vital part of the region's economy turning over £8.6 billion, involving 1,300 businesses and employing over 90,000 people. There's a growing recognition that successful food and farming businesses will help pull Britain out of recession. The role of the Regional Agricultural Centre is to support and assist farmers to flourish," explains Simon Theakston Chairman of the Yorkshire Agricultural Society.

The centre will be home to Fodder, the new regional food shop and cafe set up and championed by the YAS as well as Growing Routes, the Society's initiative which supports entrepreneurial farmers, The Food and Farming Forum which delivers the region's response to Defra's Strategy for Sustainable Farming and Food (SSFF). It is also the base for the Yorkshire Rural Support Network, supported by the YAS.

"Despite the credit crunch, demand for locally produced food is growing dramatically, and I find it gratifying to see the rural economy is meeting the demand and innovating to finding new markets."

"Farming is as volatile as any other industry, but a recession can also signal a time of reinvention and opportunity. Farmers are becoming more entrepreneurial than ever and the role of the Regional Agricultural Centre is to give a market to these enterprising producers."

The building has been constructed by Harrogate based Houseman and Falshaw. Managing Director Stuart Falshaw said: "This has been an innovative project and one in which we are proud to have been involved.

"Integrating more than 20 major sustainable features into one building of this size has had its fair share of challenges from design and engineering to compatibility. However the team, including the client, architect, management consultant and our site construction staff have delivered this project within budget and in time for the launch this month, and the quality and detail speaks for itself. This has been a tremendously exciting development and is testament to all who have been involved in the Yorkshire Agricultural Society's vision of the future."


FODDER'S ENTERPRISING FARMERS "What's the Big Idea?"

The Farmer Brewers
The Wold Top Brewery is one of Yorkshire's newest microbreweries established by the Mellor family. The Mellors have been producers of high class malt barley for many years and their brewery is sited on the farm that has its own supply of pure chalk filtered water, which has been the only source of drinking water since the first borehole was sunk in 1937.
Their aim is simply to produce consistently high quality beers using traditional methods and the very best ingredients sourced from their own farms. www.woldtopbrewery.co.uk
The Sloe Forager
Sloe Motion, like a small but growing number of companies, makes its money from wild foods. In the past, using wild products was commonplace. Now, consumers have become more discerning about where their food comes from and what goes into it. "We can't market our sloes as organic - even though in effect they are - because they're wild," says Jonathan Curtoys, one of the company's founders. "Wild products are un-tampered with, no pesticides, herbicides, or any products at all, are used to grow them. They come out of the soil just as they are and as they were when our ancestors first used them."
For those yet to discover the sloe, a real pleasure awaits. Malton-based Sloe Motion's traditionally made liqueurs are quite unlike their 'base' spirits (the traditional gin, plus whisky, vodka and brandy); they are smooth-textured, soul-comforting and elusive on the palate. Some taste notes of plum, whilst others detect wild cherry and even almond.
With Sloe Gin and Sloe Whisky Chocolate Truffles and Sloe Chutney also on offer, Sloe Motion is proof that the reason the blackthorn is the last shrub to bear its fruit.
The Unlikely Beekeeper
Six years ago Liz Joyce almost died from a bee sting – but now the winged-creatures have become an unlikely lifeline. The 51-year-old was driving when a random bee stung her. "In seconds I couldn't get my breath," she said. An ambulance rushed her to Bradford Royal Infirmary where she was pumped with adrenaline which saved her life.
But despite the near-death experience, Liz has refused to live in fear of bees which are now at the heart of her booming home-grown business – Denholme Gate Apiary. When her husband Mike retired, his beekeeping hobby escalated even more into a full-time business.
Now the couple are known locally as the Bee Man and the Honey lady because, although Liz stays clear from Mike's 100-plus hives, she is the one who turns what they produce into pots of preserves, beauty creams, polishes and candles sold at Fodder.
Ensuring the Survival of the Hill Farmer
The Crabtrees have farmed at Bolton Park Farm on the Duke of Devonshire's estate for over 47 years. They're remarkable farmers for their staying power, in an age where hill farming declining rapidly. They farm the Yorkshire Dales much like their grandfather farmed. The sheep graze over the heather moors and lower parklands. The breeding sheep have been established over the past 50 years and are indigenous to the Wharfedale valley.
The trend for locally sourced meat gives Stephen Crabtree a better return on his hill top holdings and ensures the farm can continue for another generation.
The Sustainable Cheesemakers
Dianne and Jeff Gill make organic cheeses on their smallholding at Southowram, Halifax, with milk from Clever Cow Organics at Thornhill Hall near Dewsbury in their wind and solar powered dairy.

"We're fully committed to running a zero carbon creamery making delicious hand made cheese from entirely sustainable energy sources. We're looking after our animals, the countryside and the future. The cheese tastes pretty good too," explains Diane.

The Dairy Queen

28 year old dairy farmer, Jenny Clarkson is changing the fortunes of her family farm one tub of ice cream at a time.

Jenny's father, Jim, and her brother, Richard, farm a herd of 135 Holstein/Friesian dairy cows at Hazel Slack Farm, Barkisland, in Calderdale. It's an area of rich pastureland suited for dairy cows, but in the last 15 years, the number of dairy farms has reduced from seven to two. Making commercial ice cream has been Jenny's dream to keep the farm in the family and make a better return on the milk they produce. Jenny's ice cream has won plaudits from national food critics and the toughest critics yet, children.
Just Jenny's is supported by Growing Routes, and Yorkshire Agricultural Society initiative.
Fodder is run by the Yorkshire Agricultural Society, a registered charity which runs the annual farming and rural events, the Great Yorkshire Show and Countryside Live. It is also supported by Yorkshire Forward.

Thousands of Youngsters Enjoy Countryside Days


2009 Children's Countryside Day at Wooler


Great Yorkshire Show Model Young Farmer Competition Finalists Announced