Model Young Farmer Competition – Finalists Announced
2009-05-29
The seven finalists for the new Model Young Farmer competition at this year's Great Yorkshire Show have been announced.
the finalists in the Great Yorkshire Show's Model Young Farmer Competition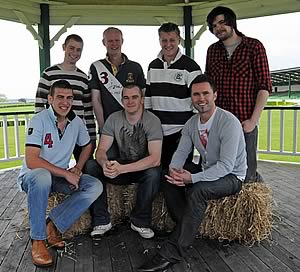 The competition, which makes its debut this year, takes place on the first day of the event and is part of the stunning catwalk shows in the Skipton Building Society Fashion Pavilion. The Great Yorkshire Show, which each year attracts more than 130,000 visitors, runs from Tuesday 14 – Thursday 16 July and is held at the Great Yorkshire Showground on the edge of the spa town of Harrogate.

As well as the fashion shows, the attractions at what is one of the UK's largest farming and country events include international showjumping, a flower show, thousands of animals, displays and plenty of fun for all the family.

All seven shortlisted contenders will strut their stuff on the catwalk during the four fashion shows on the Tuesday. The winner will be announced after the 2.30pm show and will receive £300 from the sponsors, Skipton Building Society and a crate of Black Sheep beer. Each of the other finalists will receive £50.

Bill Cowling, Honorary Show Director said: "The fashion shows are certainly amongst the most popular attractions at the event. In the past we've concentrated on female fashions but this year we wanted to add a different dimension, and link it to farming. Involving the Young Farmers Movement does just that, and I'm sure it will be very well received, and who knows, it might lead to new career opportunities which would certainly be diversification with a difference!"


The seven finalists hoping to take the title of Model Young Farmer 2009 are:

Mark Simpson, aged 29, of Ossett, Wakefield, West Yorkshire, whose ambitions include becoming a model. He currently helps to run his stepfather's farm.

Christian Gallon, aged 21, of Greengates, Bradford, West Yorkshire, works in agricultural sales and was nominated by his aunt, Simone Gallon, who is the editor of Farmers' Mart magazine.

Jimmy Atkinson, aged 25, of Harperley Hall, Crook, Co Durham was nominated by his mother, Anita. He works with cattle and sheep as well as being involved in forestry.

Stuart Fort, aged 24, of Glusburn, Keighley, West Yorkshire, works on his parents' dairy farm and was nominated by his girlfriend.

Robert Battye, aged 19, of Snowden Hill, Oxspring, Sheffield, South Yorkshire, was nominated by staff at the Young Farmers' County office. He is currently taking a welding and fabrication apprenticeship but also helps out at his family's beef farm.

Thomas Foley, aged 20, of Rathmell, near Settle, North Yorkshire, works on a beef farm and undertakes agricultural contracting. He was nominated by his fiancée.

Stephen Knowles, aged 30, of Langthorpe, Boroughbridge, North Yorkshire, is the current County Chairman of Yorkshire Young Farmers and is taking part in the competition to help promote the organisation.


Bernadette Gledhill of the Louise Morton Model Agency and the fashion show co-ordinator, is helping the contenders learn the essentials of catwalk modelling, offering professional advice and guidance on how they need to walk and act to really look the part.

She said: "Even professional models can find it daunting when they first take to the runway and walk out in front of an audience, so I'm really impressed with these guys for being willing to give it a go.

"I'm helping as much as I can so they will know what to expect and I'm sure that when the time comes they'll all step out confidently and show everyone what they can do. We're lining up some fantastic designer outfits for them, too, so they'll look fabulous! Good luck to all of them."

The fashion shows are free and take place in the Skipton Building Society Fashion Pavilion at the north west side of the showground. Times each day are 11am, 12.30pm, 2.30pm and 4pm. Please note the Model Young Farmers will only be appearing in the Tuesday shows.

EBLEX at Beef Expo 2009


Full Steam Ahead for the Three Counties Show


Crowds Throng to Beef Expo 2009