Thousands of Youngsters Enjoy Countryside Days
2009-06-11
Thousands of school children from across Yorkshire descended on Great Yorkshire Showground in Harrogate for the annual Countryside Days event, organised by the Yorkshire Agricultural Society.
Jed Reed (11) and Millie Chapman (10) from Topcliffe Primary School near York with one year old Jersey "Mystery"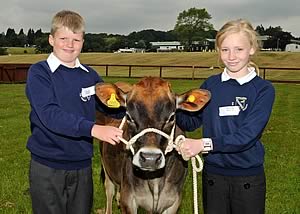 Now in its ninth successful year, the aims of the event include introducing primary school children to the realities of farming - from rearing animals to growing crops, making the link between what we eat and what is grown, and encouraging an interest and a respect for the countryside.
Nigel Pulling, Chief Executive said: "Countryside Days is hugely popular with schools, it's always over subscribed and this year was no exception. It provides a fantastic opportunity for youngsters, and teachers, to see for themselves what's involved in producing our food and working in the countryside. Because the workshops are very much hands on, it brings everything to life and means they are far more likely to remember their experiences and thus benefit from them."
The event is part of the Society's on-going work to highlight the importance of farmers in the production of food, and in maintaining the countryside.
Over the two days (Tuesday 9 and Wednesday 10 June) some 5,200 children from 100 schools attended and enjoyed a number of new attractions ensuring the Key Stage 2 youngsters got the most from their day.
For the first time, they could try their hands at felt and rope making, as well as plant seeds, hand mill grain into flour and make gingerbread dough.
In addition to the popular workshops, there were a wide range of demonstrations of countryside pursuits, including displays of working sheepdogs, birds of prey and gun dogs.
And, as ever, the Farmyard Arena proved popular, with pupils able to get close to the cattle, sheep and pigs.

2009 Children's Countryside Day at Wooler


Great Yorkshire Show Model Young Farmer Competition Finalists Announced


EBLEX at Beef Expo 2009