Agricultural, Environmental, Countryside and Farming News from the UK and beyond.
Full Circle For Forestry Leader
The new head of forestry courses at Newton Rigg College, Penrith, is herself a former student of the college.
---
Charity Tractor Convoy to Conquer Morecambe Sands
A convoy of vintage red and grey Massey Ferguson tractors is to cross the hazardous sands of the UK's Morecambe Bay in a charity run to raise money for Diabetes UK on Sunday June 2nd.
---
New Research into Protecting Vegetables from Disease, Naturally
As concerns over pesticides such as neonicotinoids grow, SRUC and the James Hutton Institute have launched a new research programme looking into activating plants' natural defences.
---
Exceptional Rearing Calf Trade at CCM Skipton
Phenomenal trade for rearing calves, with all types of youngsters in solid demand, was seen at CCM Skipton's May show.
---
Halal Sector to Establish Red Meat Forum
A new open forum to discuss what needs to be done to help the Halal red meat industry move forward is being created.
---
NSA Delighted Schmallenberg Vaccine will be Available this Summer
The National Sheep Association (NSA) is delighted the Veterinary Medicine Directorate (VMD) has granted a licence for MSD Animal Health's Schmallenberg vaccine.
---
Larch Fellers' Warning
If you are thinking of felling any Larch this summer you need to apply for your Larch-felling license now.
---
World Record Price for Working Sheep Dogs at Skipton
Sheep dog enthusiasts from all over Europe turned out in force for the popular May sales fixture at Skipton Auction Mart.
---
British Blue Ginola Fetches 20,000gns
British Blue breeders showcased a quality line-up of cattle with exceptional power and quality at the Border British Blue Club's Twenty-third Annual Spring Show & Sale at Carlisle on Saturday 18 May with a top call of 20,000gns.
---
Jubilee Wood Tree Planting Marks Global Environmental Awareness
An event held at Carrick Farm, near Lochgoilhead in Argyll, Scotland, saw schoolchildren plant some of the final trees to mark Her Majesty The Queen's Golden Jubilee and the start of creating a significant new woodland.
---
NSA North Sheep 2013
This year the focus of NSA North Sheep being held on Wednesday 5th June is very firmly on the future of the Sheep Farming Industry and the next generation.
---
Warning of Nematodirus Threat to Lambs
Vets from Scotland's Rural College fear young lambs are at risk from a mass hatch of Nematodirus battus worms they expect in the next few weeks.
---
Supporting England's Beef Farmers at Beef Expo 2013
At Beef Expo 2013 (Thursday 23 May) farmers will be able to get information and advice from Natural England staff and see exhibits and meet representatives from other organisations on a joint 'one-stop' information stand.
---
New Online Tool In Battle Against Fly Strike
As temperatures begin to rise and blowflies become more of a nuisance to sheep, the NSA urges farmers throughout the UK to use a new online tool to keep abreast of the regions affected and report any problems on their own farms.
---
Pay Attention to Spraying Technique with a T2 Fungicide
Paying attention to spraying technique with a T2 fungicide could help growers better protect the yield potential of this year's winter wheat crops, says a leading application specialist.
---
Share Your Welfare Stories to Attract Consumer Support
Britain's pig and poultry producers must be braver in talking about what happens on their farms if consumers are to be driven to buy more high-welfare, homegrown food.
---
Don't Expect Too Much From Grass
Many dairy producers will be relieved to see temperatures increase and grass start to grow. A hint that turnout for many might be around the corner comes with some relief to many where forage stocks have dwindled and there's little left for buffer feeding.
---
New ArmaTrac Tractor Launched at Livestock 2013
ArmaTrac is launching its new 4WD 904e tractor at Livestock 2013. The 94hp (70kw) machine is powered by the latest Perkins 850 Series engine, and is specifically designed and built with the livestock farmer in mind.
---
Students Collaborate in Search for Ways to Improve Damaged Grazing
Work by students at the Oatridge Campus of Scotland's Rural College will advise farmers on ways to quickly restore grassland and grazing badly damaged by months of poor weather.
---
Hong Kong Mission A Big Success
A trade mission to a huge show food show in Hong Kong to showcase quality assured beef, lamb and pork has been hailed a great success.
---
Milbrook Gingerspice Wins Royal Ulster Interbreed
In an outstanding achievement, Milbrook Gingerspice, was crowned Overall Individual Interbeed Supreme Champion for the second year running at the Royal Ulster Show, Belfast.
---
Don't Dismiss the Benefits of Long-Term Farm Investment Plans
Farmers hit by bad weather should not be put off from investing in their long-term business plans to ensure their farms are best placed to realise the long term growth opportunities ahead.
---
Alwen Tops Welshpool Limousin Sale at 6,600gns
TL & CP Wynne, with their bull Alwen Gersom, secured a fine top price of 6,600gns at the North West Midlands & North Wales Limousin Club's May Sale held at Welshpool Market on Thursday 16th May 2013.
---
DEFRA Grant Supports County Show
As the preparations gather momentum in the final week before this year's Northumberland County Show, organisers are grateful to DEFRA for the award of a much needed £44,000 grant.
---
Old Glenort secures Aberdeen Angus Championship at Balmoral
Securing the first ever Aberdeen-Angus championship at the new Balmoral Show location at the Maze, Balmoral Park, was local breeder James Porter, Ballinderry, Lisburn.
---
Heald Field Day at CCM Skipton Pedigree Limousin Showpiece
The Nottinghamshire-based Coachhouse pedigree Limousin herd of the Heald farming family had a field day at CCM Skipton's premier 'Craven Limousin Day,' the annual Spring show and sale of pedigree bulls and females.
---
Dogs Should Be Kept On Lead as Sheep Deaths Rise
After 12 months of capturing information on sheep worrying incidents, the National Sheep Association (NSA) says too many dog owners are still not acting responsibly enough to prevent a high number of injuries and deaths to livestock.
---
Longtown Primestock Sale
The Cumberland & Dumfriesshire Farmers Mart PLC had forward 55 prime cattle, 18 young bulls, 36 over thirty month cattle, 116 spring lambs, 6,175 prime hoggs and 3,179 cast ewes & rams at their weekly sale at Longtown on Thursday 16th May 2013.
---
Crop Market Update from Gleadell
The market expected big crop numbers from the USDA, and they did not disappoint! The forecast for record US soybean/corn crops, along with record global wheat production, has projected a bearish sentiment upon the markets.
---
British Blue Bull Tops Balmoral Steak Competition
The first Asda/ABP BeefLink steak competition of the 2013 show season was won by a steak from a British Blue sired young bull bred by Larne, Co Antrim-based farmer Robin Arnold.
---
How To Tackle Really Bad Black-Grass
Huntingdonshire wheat grower, Martin Whitlock and his father Tony have a real challenge on their hands at Rookery Farm, Stow Longa.
---
Could Sheep Shearing become an Olympic Sport?
Competitive Sheep Shearing requires incredible precision, speed, endurance and strength combined with thousands of hours of practice; all of the qualities we attribute to Olympic athletes.
---
Farmers Need to Act Now to Avoid Missing FIT
Farmers wishing to take advantage of the current FIT for wind turbine generated power must act now.
---
R&D Day Gives Food for Future OSR Thought
Little agronomic differences can add-up to big winter oilseed rape performance benefits when the going gets tough, growers discovered at a specialist Agrii research and development day in Wiltshire this month.
---
Slow Food and FAO Join Forces
FAO and the international Slow Food organization agreed today to develop joint actions to improve the livelihoods of smallholders and others working in rural areas.
---
Clydesdales Head South for County Show
The last Monday in the month sees Jacqueline Adamson and her family travel south from Glasgow to the Northumberland County Show for the first time to exhibit their Clydesdale horse.
---
New Pig Industry Scholarship
A new Pig Industry Scholarship at Harper Adams University is aiming to help raise the profile of the exciting range of career opportunities in the pig industry, covering the allied industries as well as pig production.
---
Better Balanced Feed Wheat Mix
The best possible varietal balance is crucial in modern UK feed wheat production to minimise the escalating agronomic risks from our increasingly variable and more extreme weather patterns.
---
5,700gns Tops Brecon Limousin Sale
Loosebeare Golddust from Messrs EW Quick & Sons, made 5,700gns and topped the British Limousin Cattle Society's May Bull Sale held at Brecon Livestock Market on Saturday 11th May 2013.
---
Wind Turbine Open Day In Co Durham
Well known farmer and cattle breeder James Weightman not only sells his home grown Blonde D'Aquitaine Bulls all over the UK, but he's now selling his home grown electricity too.
---
Livestock Event: Careers In Agriculture
The Livestock Event, staged at The NEC, Birmingham on Wednesday 3 and Thursday 4 July will offer some fresh ideas in a new feature dedicated to employment opportunities.
---
Lawsons Strike Again at Craven Dairy Auction
The Newbirks pedigree Holstein herd in Arthington added to its ever-growing tally of Craven Dairy Auction championships when again lifting the title at the early May show and sale at CCM Skipton.
---
Major Sheepdog Trial for NSA Highlandsheep
An invitation sheep dog trial between teams from six areas of the Highland and Islands will be a major feature of NSA Highlandsheep at Dingwall on May 30.
---
New Charolais Centre Breed Record of 31,000gns at Carlisle
A new British Charolais centre record of 31,000gns was set at Carlisle at the society's annual spring show and sale on Saturday 11 May, where a strong commercial demand took the average for 93 bulls sold to £5,116.21.
---
Mary Smith Receives Wensleydale Sheep Outstanding Achievement Award
Mary Smith, thought to be one of only two people in the 93-year history of Wensleydale Longwool Sheep Breeders to achieve a Great Yorkshire Show championship hat-trick with the same sheep in the same year, was honoured for her high profile success at the association's annual meeting.
---
Forest Products Critical to Fight Hunger - Including Insects
New study highlights role of insects for food and feed consumption.
---
Farmlite GRP – A New Generation of Farm Rooflights
Market leading rooflight manufacturer Brett Martin Daylight Systems has launched Farmlite GRP, a range of long lasting, high performance glass reinforced polyester rooflights with anti-yellowing technology.
---
CAP Reform: What the Dairy Sector Needs
In view of the current trialogue discussions, the European dairy industry calls for a complete rejection of any proposal for regulated supply management measures in the dairy sector.
---
Rumen Friendly Feeds To Complement Summer Grass
Following nationwide success with its 'Rumen Friendly Concept' products in the beef and sheep pedigree markets, Harbro has launched a range of 'rumen friendly' dairy compounds with similar principles.
---
Increased Demand for Store Cattle at Hexham
Hexham & Northern Marts had forward an entry of exactly 1220 head of cattle for their May Term sale on Friday 10th May.
---
Coping with the Lack of Spring Grass
As the grass slowly gets greener and begins to grow farmers across the country are sighing with relief as they let their cattle out of the sheds they have been living in for far too long.
---
Herefordshire Producer Celebrates Texel Survey Win
Commercial and pedigree sheep farmer Ed Samuel of St Weonards, Herefordshire, is celebrating after winning a new Ritchie lamb weighing crate in a prize draw run by the Texel Sheep Society in 2012.
---
Standen-Pearson Appoints New Western Area Sales Manager
Martyn Gardner has been appointed as Western Area Sales Manager at Standen Engineering Ltd, with responsibility for the promotion and sales of Standen-Pearson Potato Systems products.
---
Crucial Form-Filling Deadline Days Away
NFU Scotland is reminding all farmers and crofters that crunch time is fast approaching for them to submit their annual application form for Scotland's various support schemes.
---
North Sheep Seminar Programme Announced
North Sheep, The National Sheep Association's northern biennial one day event, is not just about showing, competitions and demonstrations; it also acts as a vital industry forum.
---
Beware of Tetanus the Profit Killer
Newry vet Brian Doyle is urging farmers to vaccinate cattle against common killer Clostridial Diseases such as Tetanus or Blackleg.
---
Rumenco New 4 In 1 Grazing Supplement
Rumenco has launched a new ruminant livestock summer pasture supplement to help cattle and sheep producers combat the anticipated and well-reported challenges of the 2013 grazing season.
---
New John Deere FarmSight Dealer Services
John Deere's newly established FarmSight service packages are now available from participating dealers in the UK and Ireland, and will be featured for the first time in public at Cereals 2013.
---
Unique Red and White Holstein Joins Dairy Daughters' Stud
A red and white full brother to the top two show heifers in Britain has been launched for sale by Dairy Daughters.
---
Plan To Spray Docks In Silage Fields In Next Week or Two
Farmers wanting to spray weedy silage leys before first cut, will need to do so in the next week to ten days - but getting the exact timing right is going to be tricky.
---
Massey Ferguson Supports Forage Aid
A farmer who launched a campaign to get free forage to snow-hit hill livestock producers says he has been overwhelmed by the response.
---
Strong Cereals Production Seen In 2013
Strong growth is expected for global wheat, coarse grains and rice production in 2013, according to early forecasts published in the May issue of FAO's monthly Cereals Supply and Demand Brief.
---
Dorset Rams Peak at 4,800gns Boosting Confidence at Early Sale
The annual Dorset May Fair in Exeter Livestock Centre on Wednesday (May 8) on behalf of the Dorset Horn and Poll Dorset Sheep Breeders' Association provided a positive early barometer for the year's sheep trade.
---
Longtown Primestock Sale
The Cumberland & Dumfriesshire Farmers Mart PLC had forward 58 prime cattle, 5 young bulls, 22 over thirty month cattle, 60 spring lambs, 4,878 prime hoggs and 3,252 cast ewes & rams at their weekly sale at Longtown on Thursday 9th May 2013.
---
Three Year 0% Finance Schemes Now Running on Kuhn Drill Range
Two new three year finance schemes have been introduced on all Kuhn drills and drill combinations from May 2013.
---
Schmallenberg Lamb Losses Reflected in CT Scanning Service
The impact of Schmallenberg Virus (SBV) in England has been reflected in the activities of SRUC's CT sheep scanning service this year.
---
Lady Claire Macdonald to open NSA Highlandsheep
One of Scotland's leading restaurateurs, food writers, cookery demonstrator and champion of the Scottish food industry, Lady Claire Macdonald has accepted the invitation to officially open Scotland's new sheep event NSA Highlandsheep.
---
Scottish Farmers Support Calls On Co-Financing
NFU Scotland has joined up with farming unions across Europe to demand that national governments co-finance any transfer of funds from the direct payments pillar of the CAP to the rural development pillar.
---
Pasture-Fed Livestock Group Grows after Horsemeat Scandal
The Pasture-Fed Livestock Association (PFLA) has experienced a surge in interest since horsemeat DNA was confirmed in some processed foods on sale in British supermarkets.
---
FarmCam – The Time, Life and Energy Saver
Lambing ewe hoggs can be a challenge, but was made a lot easier by installing a farmCam wireless security and stock surveillance system.
---
Dairy Shorthorn Joins the RBST Critical Watchlist
The Dairy Shorthorn, one of the United Kingdom's most iconic cattle breeds, is now on the RBST Watchlist in the Critical category.
---
New Vaccinator Range from MSD Animal Health
MSD Animal Health has launched a new range of high quality, reliable vaccination equipment.
---
New Certificates to Help Breeders Promote Ram Sales
Commercial interest in performance recording of sheep flocks has prompted a new initiative to help breeders drive sales of rams.
---
Flexible Strip Tillage System Offers Great Potential
Most strip tillage in Western Europe has been based around the establishment of oil seed rape, but as the benefits of strip tillage continue to grab growers' attention, many are looking at flexible solutions that will enable them to drill a wider range of crops.
---
Young Feathers Fly In for Skipton Prime Lamb Coup
Seven-year-old Kylie Feather and her brother Harrison, from Cullingworth, were awarded the Spring lambs title on Bank Holiday Monday.
---
Allanfauld & Ronick Bulls Sell to 6000gns at Stirling
Two bulls from the Allanfauld and Ronick herds respectively made 6000gns and lead the sale trade at the British Limousin Cattle Society's May 2013 Stirling Sale.
---
Two in a Row for Frawley Family at Emerald Expo
The Emerald Expo 2013 saw a record entry of cows and young stock despite the difficult weather conditions this spring.
---
Managing Post-Calving Endometritis
Endometritis or an infection of the womb is seen in 20% of cows post calving and whatever the cause or however many cases it costs you money!
---
Insurance Can Keep Your Turbine Turning
Wind turbines might produce "free" energy, but they still can be expensively damaged by unpredictable weather.
---
Leatherjacket Numbers High
SRUC warns the hard winter has not stopped the march of the daddy-long-legs grubs!
---
Cargill Invests in Indonesia Cocoa Plant
Cargill has invested U.S. $100 million to construct a state-of-the-art cocoa processing facility in Gresik, in the East-Java region of Indonesia.
---
Monitoring the Cattle Management Plan
Coming to the end of its third and final year, the Northumberland Monitor farm has provided a focus for farmers county wide.
---
Keenan Nutritionists Helping Farmers During Fodder Crisis
The popular Keenan InTouch Helpline is handling up to 60 calls a day and is staffed by experienced animal nutritionists working to alleviate the forage crisis.
---
North Pennines Anniversary Forum
Celebrating the past and looking towards the future are both on the agenda for this year's North Pennines Area of Outstanding Natural Beauty (AONB) Annual Forum.
---
Sheila Mason Champion at Skipton British Blue Showpiece
CCM Skipton's annual pedigree beef season commenced with 'Blue Wednesday', the pedigree British Blue showpiece, which was dominated by breeders from North Craven.
---
Mereside Godolphin Races to 40,000 at Carlisle
RM Hazard & Sons' bull lead the British Limousin Cattle Society's May Show and Sale of bulls held at Borderway Mart, Carlisle on Saturday 4th May 2013.
---
Solway Recycling Launches Calf Reviver
A Calf Reviver Box to save calves lives and farmers' time for many years to come has been developed by farm based Solway Recycling of Dumfries.
---
New Appointments at John Deere Limited
Two new Langar-based appointments have been announced by John Deere Limited, effective from 1st May 2013.
---
Caltech Hampshire Down Commercial Flock Award Launched
The search is on for the Caltech Hampshire Down commercial flock of the year.
---
Reducing Water Use on Beef and Sheep Farms
Reducing water use on beef and sheep farms is the aim of a research and development project recently launched by EBLEX.
---
Cogent Expands Export Department
Cogent has expanded its international sales department with the appointment of Tom Peters as Export Area Manger.
---
Fluke Problem Forecast to Get Worse
Farmers and Crofters hoping the suffering liver fluke is presently causing their sheep and cattle won't be repeated should take note of future forecasts.
---
Longtown Primestock Sale
The Cumberland & Dumfriesshire Farmers Mart PLC had forward 42 prime cattle, 12 young bulls, 36 over thirty month cattle, 45 spring lambs, 4,977 prime hoggs and 3,281 cast ewes & rams at their weekly sale at Longtown on Thursday 2nd May 2013.
---
Forecasting Flystrike Online
A new web-based early warning service to help farmers decide when to protect their sheep from flies has been launched by the National Sheep Association and Scotland's Rural College.
---
Massey Ferguson 'Beefs Up' Beef Week
A Massey Ferguson 7616 provided by local Dealer, Peacock & Binnington proved a real crowd pleaser in Parliament Street, York City Centre last week for the launch of the Great British Beef Week 2013.
---
UK Lamb Forecast Revised Down
Poor weather conditions have led to the 2013 UK lamb crop being revised down to 15.8 million head, eight per cent (1.36 million) lower than the estimated 2012 crop.
---
Not Enough Evidence to Support Ban on Neonicotinoids
The Country land and Business Association says there is not enough field evidence to support EU ban on Neonicotinoids.
---
Record Year for Beef Shorthorn
The Beef Shorthorn Society has reported a record interest in the breed during the last 12 months.
---
Don't Forget to Treat Cattle for Fluke at Grazing this Season
Despite the cold winter this year, liver fluke is still likely to be a problem on many farms this grazing season.
---
Debate Around Large-Scale Livestock Farming Must Shift
The debate around intensive livestock production must shift towards finding ways to allow animals to show normal behaviour if sustainable large-scale systems are to help meet food demands.
---
Join the Disease Police and Spend the Summer as a Tattie Roguer
Scotland's Seed Potato growers are on the lookout for qualified Tattie Roguers!
---
Double Gold for Rural Businesses on Building Design
Several Teesdale and North East-based rural enterprise companies are celebrating after the Cross Lanes Organic Farm Shop at Barnard Castle, Co Durham, was named 'Building of the Year' at the first ever Farm and Agricultural Buildings awards.
---
Committed to Dorset Sheep
Galloway Cattle Save on Inputs and Labour
Closed Flock Controls Disease
Good Management Reaps Rewards at Knockenjig
Barlows Reap the Benefit of Hard Work
Strickley Dairy Shorthorns Thriving Organically
Lakeland Luings Prove Productive
Ayrshire Wearability Pays Off for Cumbrian Dairy Herd
Farlam Jerseys Top NMR Tables for Cumbria
Dunnerdale Holsteins Win Cumbria Herd Competition
Belted Galloways Thriving at Askerton Castle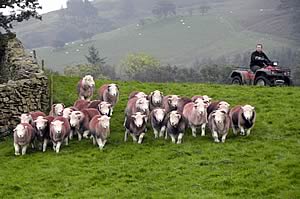 Science Saves the Hardy Herdwicks
Polled Charolais May Have the Answers
Converting to the Flexible Poll Dorset
---
home | agri-services | pedigree pen | news | dairy | beef | machinery | quota | property | organisations | site map