New Fullwood Merlin Robot Milking System Launched
2011-12-08
The latest generation of the Fullwood Merlin automated milking system, which features a redesigned arm for improved teat cup attachment, has today been launched by Fullwood Limited.
The new Fullwood Merlin features a redesigned arm for improved teat cup attachment as well as reduced service requirements.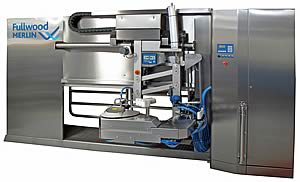 The new model is the fourth version of the Fullwood Merlin, and offers faster teat cup attachment and removal as well as improved cow comfort during the milking process. The new design also extends the service interval, as well as making the machine easier and cheaper to maintain and keep clean.

"The new Fullwood Merlin features a completely redesigned teat cup attachment arm which is lighter and more streamlined in design," explains David O'Hare, Chief Executive of Fullwood Limited.

"The new arm retains Fullwood's unique flat-plane design for fast teat cup attachment, but has been made lighter to create less wear on the main pivot points. It also features improved take-off cylinders and new vacuum shut-off valves for faster teat cup attachment and removal. The new arm also provides improved ergonomics, giving a greater range of reach for improved teat cup alignment, especially for cows with smaller and irregularly shaped udders. The new design also provides better protection to the robot's internal components for greater reliability and longevity.

"Fullwood's philosophy is to continually improve and develop our products to ensure that we remain at the forefront of modern milking technologies. By listening to feedback from our customers and dealers we have developed a new model of our flagship automated milking system that uses the best features of previous tried and tested models, but with new design features that make it easier and cheaper for farmers to clean and maintain the robot."

To celebrate the launch of the new model, prices remain unchanged for 2012, and Fullwood is also offering a significant discount on all Fullwood Merlins ordered between 1st December 2011 and 29th February 2012, with deliveries to be taken before 30th September 2012.
"Customers who place an order during this period will receive four quarter conductivity meters, 60 Crysta Act+ pedometers, one milk separation unit, one Crysta Lab milk constituent analyser and a copy of Fullwood's Crystal herd management software package at a significantly discounted price," Mr O'Hare adds.

New 9R and 9RT Series Tractors from John Deere


Magnum 370 CVX with More Power and Continuously Variable Transmission


McCormick T-Max Tractor Range Expands to Five Models