McCormick T-Max Tractor Range Expands to Five Models
2011-11-29
Following a good response to the introduction of a single T-Max model to the McCormick range earlier this year, distributor AgriArgo UK has decided to offer the complete line of 74hp to 110hp tractors in Great Britain.
With a choice of mechanical or electronic lift control, synchro and power shuttle transmissions with and without three-speed powershift, and optional front linkage/pto, the McCormick T-Max offers a choice of spec levels for grassland and arable farms alike.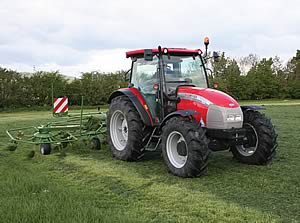 "We introduced the 93hp T100-Max to fill a particular niche in our product range as an alternative to the more utilitarian C100-Max and the CX100 with its larger cab," explains Ray Spinks, general manager and sales director. "Now that the CX range has been replaced by the higher-spec and more powerful X60 Series tractors, we feel there is a place for the complete T-Max line-up."
There are 10 versions in all, with power outputs from the familiar Perkins 1104D-44 engine of 74hp, 83hp, 93hp, 102hp and 110hp.
Synchro Shuttle models come with the Speed Four Overdrive transmission, giving 24 speeds forward and 12 in reverse, using a mechanical high-low splitter. Creep gears can be added to this 40kph transmission.
The Power Shuttle transmission has a novel clutch sensitivity adjustment feature that alters the 'bite' characteristics of the main drive clutch and power shuttle clutch. Operators can set this function using a dial to suit different working situations or their own preferences.
A 36kph 12x12-speed transmission is standard fare on T-Max Power Shuttle tractors but buyers can instead choose the Speed Four HML option, which adds three-speed powershift for a 36x12 configuration, with creep speeds also available if required.
"These transmission options contrast with the single 24x12 unit available in the three C-Max models, which remain ideal for operators wanting a simple, straight-forward tractor for yard and general top work in the field," notes Paul Wade, McCormick product specialist. "Outwardly, the two designs look similar because they share the same cab frame and hood shape – the all-silver finish of the T-Max grille is a give-away. But the T-Max has significant spec and equipment differences that make it a better choice for operators with a more demanding workload."
Among these differences is a new transaxle assembly designed and built in the ARGO Tractors factory in Italy. Capable of handling more power, it features a tougher rear axle with epicyclical speed reduction rather than spur gears.
It also provides greater three-point linkage lift capacity – 4350kg versus 3700kg on the C-Max. Also, the tractors can be fitted with an 1800kg front linkage, with or without power take-off, for added implement working versatility.
Integrated multi-disc front axle brakes give the T-Max greater stopping ability and pivoting front mudguards allow full use to be made of the axle's 55 degree steering angle for nimble manoeuvrability.
Lots of glass and handy storage pockets feature in the T-Max four-post cab; in this case, on a Power Shuttle version with manual linkage operation.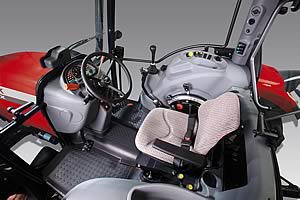 All T-Max tractors have lower link draft sensing (it's via the top link on C-Max models) and on Power Shuttle versions there is a choice of mechanical or electronic rear linkage operation. The latter provides improved draft implement control and the added convenience of linkage lift-lower buttons on the rear mudguards for easier coupling of mounted equipment.
Inside the neat-looking cab, air conditioning is fitted throughout and an air suspension seat option for Synchro Shuttle models is standard on the Power Shuttle versions.
A power-matched McCormick LiftMaster hydraulic loader is available to work with any of the T-Max tractors, all of which come with the CESAR-backed Datatag theft deterrence and recovery system installed as standard.
"With its low overall height and easy manoeuvrability, the T-Max makes an attractive stockman's tractor for operators who want more than the most basic specification," says Paul Wade. "It will also appeal to growers in the arable and horticulture sectors wanting a small-sized tractor with decent power, a versatile transmission and a choice of features."
McCormick T-Max range

Model

T80-Max

T90-Max

T100-Max

T110-Max

T115-Max

Power

74hp

83hp

93hp

102hp

110hp

Transmission 1

Speed Four Overdrive - synchro shuttle 24x12; creep available

Transmission 2

Speed Four - power shuttle 12x12

Transmission 3

Speed Four Speedshift - power shuttle 36x12 with
three-speed powershift; creep available

Hydraulics

52 litre/min main pump + 30 litre/min steering and
auxiliaries pump - total output 82 litres/min

Rear lift

4350kg - mechanical control with synchro shuttle;
mechanical or electronic control with power shuttle

Front lift

1800kg - optional

PTO

540/1000 or 540/540E or 540/540E/1000 plus
ground speed option; front pto 1000rpm option

Farmall by Case IH – the Cost-Effective All-Round Tractor


EfficientPower – Only Available in Red


Pilot Study Shows Roundhouse Cattle are Less Stressed