New 9R and 9RT Series Tractors from John Deere
2011-12-06
Designed for heavy-duty, large-scale field operations, John Deere's new 9R and 9RT Series tractors from 410 to 560hp (maximum 451 to 616hp, to 97/68/EC rating) are the most powerful, productive and comfortable four-wheel drive tractors the company has ever built.
John Deere 9560RT tractor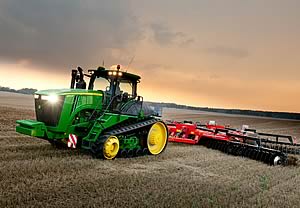 Available for 2012, the new 9R and 9RT Series line-up consists of four wheeled tractors and three tracked versions, and replaces the 9030 Series which was introduced in 2007. A tracked model from the range will make its UK debut on the John Deere stand at the LAMMA 2012 show, Newark, in January.
These new tractors feature the latest improvements in power, hydraulics, hitch and pto options, as well as cab comfort and controls. This means more horsepower, more integrated intelligent solutions such as AutoTrac and JDLink, and improved high-flow hydraulics and pto options.
All 9R/9RT Series models come with John Deere's advanced 13.5-litre PowerTech PSX diesel-only engines and meet the European Stage IIIB emissions standard. The engines feature in-line, six-cylinder, four-valve high pressure common rail technology and series turbochargers. To make them clean burning engines, they are equipped with cooled exhaust gas recirculation (EGR) and exhaust filters which include a diesel oxidation catalyst (DOC) and a diesel particulate filter (DPF).
All the tractors employ an 18 forward/six reverse speed PowerShift transmission with Efficiency Manager as standard. This feature allows the tractors to operate at an optimal performance level while minimising fuel consumption. Efficiency Manager gives the operator precise ground speed control at up to 40kph by letting the operator set the speeds for field or transport applications with a thumb wheel in the transmission shift lever.
To enhance operator comfort, John Deere's new 9R and 9RT tractors feature the newly designed CommandView II cab, which offers several different packages for both the wheeled and tracked models. The spacious cab provides 10 per cent bigger overall volume, has seven per cent more glass area and four times as much storage space as the previous range, making it an even more comfortable and convenient workplace, including excellent visibility, even around the clock, due to the integrated 360-degree lighting system.
Additionally, a high level of operator comfort is achieved by the ActiveSeat suspension on all models, and John Deere's exclusive AirCushion suspension system on the tracked versions. The new cab also features easy-to-use CommandArm fingertip controls and the newly designed GreenStar 3 CommandCenter Display. This can run many precision farming applications, including telematic solutions such as the factory-installed JDLink and Service ADVISOR Remote.
All 9R/9RT models feature multiple drawbar choices, optional ptos and higher lift capacity (9072kg) from the electro-hydraulically operated three-point hitch, to pull wide drills, lift heavy ploughs or tow large trailers.
Improved hydraulic system features on these new tractors increase overall tractor efficiency – one common reservoir provides improved oil level management in the drive train, and high-flow hydraulics are now available on all models, as well as up to six SCVs.
New John Deere 9R/9RT Series tractors
| | | | | | |
| --- | --- | --- | --- | --- | --- |
| Previous model | New model | Type | Engine hp | Displacement (litres) | Transmission |
| 9330 | 9410R | Wheeled | 410 | 13.5 | 18/6 PowerShift |
| 9430 | 9460R | Wheeled | 460 | 13.5 | 18/6 PowerShift |
| 9530 | 9510R | Wheeled | 510 | 13.5 | 18/6 PowerShift |
| 9630 | 9560R | Wheeled | 560 | 13.5 | 18/6 PowerShift |
| 9430T | 9460RT | Tracked | 460 | 13.5 | 18/6 PowerShift |
| 9530T | 9510RT | Tracked | 510 | 13.5 | 18/6 PowerShift |
| 9630T | 9560RT | Tracked | 560 | 13.5 | 18/6 PowerShift |

Magnum 370 CVX with More Power and Continuously Variable Transmission


McCormick T-Max Tractor Range Expands to Five Models


Farmall by Case IH – the Cost-Effective All-Round Tractor