Magnum 370 CVX with More Power and Continuously Variable Transmission 2011-11-30
Meeting the growing need for greater versatility in high horse power conventional tractors, Case IH gives you a preview of the extended high end of the Magnum series available towards the end of 2012.
The new Magnum 370 CVX features the efficient
8.7 litre Case IH FPT engine.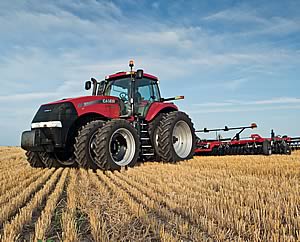 The expanded range will offer the highest power output of conventional tractors on the market, at 308kW/419hp maximum power, and give customers the added choice of a durable continuously variable transmission on all models.
Case IH brings more "Efficient Power" with its latest engine and emissions technology, and has added its wealth of knowledge from its 10 year history of the Continuously Variable Transmission in other ranges.
The combination of technologies, and the optional configurations proved a truly global tractor range that delivers productivity and cost effectiveness in the widest of application and farming businesses.
Modern Engine Technology
The new Magnum 370 CVX features the efficient 8.7 litre Case IH FPT engine. Case IH engine Power Management provides 15hp of boost to deliver maximum power of 409hp at 1800rpm and uses the cost effective SCR emissions solution. All models include the optional engine brake feature to benefit heavy transport application.
Efficient Power to the Ground
The optional Continuously Variable Transmission offers seamless acceleration for 0 to 40kph or 50kph without having to change gear. Combined with Automatic Productivity Management (APM), CVT gives operators added comfort, as this allows the tractor to set engine speed and transmission outputs that are optimally matched to different and changing working conditions.
A four-range transmission design means four peak efficiency points in the CVX transmission. Added control is also given from the "Active Stop" control that enables hillside stops without the use of brakes.
A more robust rear axle adds the benefit of using larger tyre diameters front and rear (i.e. 710/75R42 R1W Rear), improving both area of contact in the field and road speed efficiency.
Case IH Multicontroller Armrest Simplicity
Operators can utilise the MultiController Armrest to control the CVT transmission in a manner similar to, yet even easier to operate than, the full Powershift transmissions. The design and control system that is now common to Maxxum, Puma and Steigers and Quadtrac, is recognised for its ease of use and allows easy transition for new operators.

McCormick T-Max Tractor Range Expands to Five Models


Farmall by Case IH – the Cost-Effective All-Round Tractor


EfficientPower – Only Available in Red