Farmall by Case IH – the Cost-Effective All-Rounder
2011-11-28
The Farmall name is deeply rooted in Case IH history. International Harvester launched the first Farmall series back in 1922, and the tractor rapidly became a success all over the world, chiefly because of its reliability and versatility.
Case IH Farmall 110 U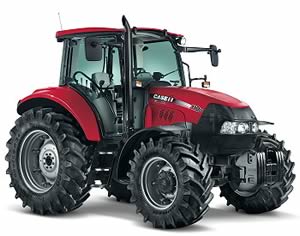 This tradition lives on in the new Case IH Farmall U, C and A series tractors, launched at Agritechnica 2011. The Farmall C is available immediately; the Farmall A 45/55 will be available early next year and the Farmall U by mid 2012.
• Farmall U – the all-rounder in the 100 hp class
The Farmall U series has been completely redeveloped and redesigned for use as an all-round and groundscare tractor. In addition to a new design, the Farmall series features the latest engine technology, the heart of which is a completely new engine with innovative exhaust gas recirculation (EGR) system. There are three models, with power outputs of 90, 100 and 110 hp.
The new Farmall U EfficientPower series delivers an increase in power in all areas, including PTO and hydraulics, and is equipped with a number of valuable new features. These include a completely new 3.4 litre common rail engine with wastegate turbocharger and intercooler and an external EGR system.
In addition to the external EGR unit, a diesel oxidation catalyst (DOC) and diesel particulate filter (DPF) post treatment system are also used. As a result, the new Farmall U series tractors meet the requirements of EU Stage 3B/Tier4 Interim.
A wide range of transmissions is available for Farmall U EP tractors, depending on the requirements of their application. These include a standard 12 x 12 powershuttle and an optional 24 x 24 powershuttle with two-stage powershift. An optional 20 x 20 powershuttle with creeper gears is also available.
Powerful rear end
Improvements also extend to the power available at the rear of the new Farmall tractors. EfficienctPower Farmall models now achieve a maximum lifting force of up to 5,400 kg, with an electronically-controlled linkage providing precise control of key functions such as position control, transport lock and maximum lift height.
New: convenient front-end hydraulics
The front of the Farmall U tractors has also been completely revised, and are now available with a front hitch. This is fitted close to the front axle, providing better tractor and implement control and reducing the load imposed on the axle. A front PTO can also be specified.
• Farmall C – the front loader professional
The Farmall C series succeeds the Quantum C range in the 55 to 75hp class, and consists of three tractor models of 55, 65, and 75hp (41/48/55 kW). They have been designed specifically for working around the farmyard – with a front loader, for example – and for livestock businesses. Compact dimensions mean the new Farmall C is also well-suited to light arable tasks, vegetable farming and specialty crop operations.
Other characteristics which make Farmall C tractors a good match for such jobs include impressive manoeuvrability, excellent power-to-weight ratio and versatile hydraulic performance, and the machines set new standards in terms of all-round visibility.
Agile modern engines
The Farmall C series is powered by a 3.2 litre, four-cylinder engine from FPT – Fiat Powertrain Technologies. Combined with the tractors' compact new geometry, these help to deliver a favourable power-to-weight ratio, creating a combination of performance with agility.
With its short wheelbase, turning radius on the Farmall C is just 3.80 metres. Transmission choice comprises a 12 x 12 speed synchromesh transmission or a 20 x 20 with creeper gears; both with mechanical shuttle or optional powershuttle system. Top speed is 40 kph, while the creeper option provides speeds as low as 123 metres per hour.
New cab concept
During the development of the new Farmall C series, Case IH engineers focused on driver comfort and ergonomics. The Farmall C features a flat-deck cab and the cab roof features an integral window for optimum viewing of a front loader attachment.
• Farmall A – the farmyard specialist
The new series is rounded off with the Farmall A, two new tractors with 45 and 55hp. These rugged, manoeuvrable and versatile four-cylinder tractors, which feature 8 x 8 synchro-shuttle transmissions and 540 rpm pto, are designed for working in and around yards, but are capable in many other environments. Both are available in either 2WD or 4WD, and are equipped with spacious, comfortable operator's platform. A folding roll over protection is also part of the standard equipment.

EfficientPower – Only Available in Red


Pilot Study Shows Roundhouse Cattle are Less Stressed


Fferm Ffactor Farmers Vent Frustrations in Landini Tractor Cab