Dairy Expo Promoting UK Genetics
2011-12-19
As announced earlier this year, the first UK Dairy Expo takes place on Friday 2nd – Saturday 3rd March, 2012 at Carlisle's Borderway Centre. This prestigious new event is being organised by Harrison & Hetherington, and is aimed at both commercial and pedigree breeders.
With international judges, a prize fund of £15,000, and entries coming in from all parts of the UK and Europe, the event is already set to become one of the key events of the Dairy farming Calendar.
Glyn Lucas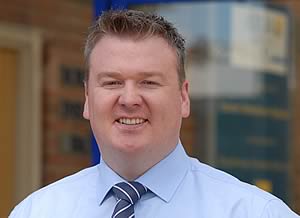 The UK Dairy Expo follows H&H's hugely successful Borderway Agri Expo, which is now in its fifth year and attracts over 10,000 visitors. This two day show begins on the Friday with the International Dairy Youth Championships. The focus on the Saturday is the dairy cattle classes. Featured breeds are Holstein, Jersey, Ayrshire, Red & White, Brown Swiss, Dairy Shorthorn, and British Friesian.
After judging and the presentations, the Global Classic Sale will take place with animals from the most prolific cow families in the world of dairy genetics.
In addition to the judging, youth competitions, and top quality livestock on sale, there will be in the region of 150 Trade Stands, with Commercial and Educational Exhibits, Machinery Show & Demonstrations, the latest in Dairy Technologies and Industry Seminars.
"We have been amazed by the interest and support from breeders for UK Dairy Expo." says Glyn Lucas from Harrison & Hetherington. "...with 120 animals already entered and still with three weeks to the closing date for entries it looks like we are going to have a huge turnout." he says. Livestock entries close on Wednesday 11th January. This date also applies to companies who want to book trade stand space.
The importance of Dairy Expo is highlighted by the high profile Canadian judges selected to place the dairy classes', both are key industry figures and highly respected internationally. Donald Dubois, from Princeville, Quebec will have the pleasure of placing the Holstein show and Brad Sayles, from Ayr, Ontario, will judge the Coloured Breeds as well as Showmanship classes.
The clipping section of the International Dairy Youth Championships will be judged by one of the industry's most recognised female figures and leading authorities in preparing dairy cattle for the show ring, Erica Rijneveld, from Holland.
"With farmers now obtaining more for their products, calves, and cast cows , Dairy Expo is being held at a time when the Dairy industry is more positive than it has been for a number of years, " says Glyn who emphasises the background to the event:
"We know that there is an opportunity in the industry for a National Dairy Event and already the response has been very positive. It is intended that the real emphasis of Dairy Expo will be directed towards the bread and butter dairy farmers. Our aim is to ensure the ongoing development of the UK Industry, so UK Dairy Expo will focus on both the commercial and pedigree aspects of the dairy business."
Major UK and international sponsors have already agreed their support. They include First Milk, Cattle Information Services (CIS), Cogent Breeding, Farmers Guardian, Norbrook Pharmaceuticals and Spain's Ponderosa Holsteins.
Paul Flanagan, spokesman for First Milk, a farm-owned dairy business that supplies and markets 15% of milk produced in the UK, tells us why they are keen to support Dairy Expo:
"When Harrison and Hetherington talked to us in the summer about their plans for Dairy Expo, we signed up immediately as sponsors. We have a strong platform in Cumbria with our Lake District creamery where we're currently investing more than £15 million in new equipment, our whey protein joint venture with New Zealand company Fonterra and of course the national growth of our Lake District cheese range. In order to hit our business development targets, we need more milk and Dairy Expo gives us the perfect opportunity to promote ourselves to existing and new producers."
Event Co-Ordinator, David Pritchard adds: "The event is aimed at helping to promote and develop UK cattle breeding on a National, European and global-basis. Its main sponsors help to provide a series of unique opportunities aimed at benefitting UK farm businesses as well as the next generation of dairy farmers."
The International Dairy Youth Championships will be a great opportunity for junior exhibitors to demonstrate their cattle handling and showing techniques. As well as the Showmanship there will also be a clipping competition where young breeders will demonstrate how they can clip and fit an animal to show-ready status in a timed event.
The Showmanship Competition is open to all young dairy farmers, in three categories - JUNIORS [12 years – 15 years], INTERMEDIATES [16 years – 20 years] and SENIORS [21 years – 25 years]. The Clipping Competition is open to all youth ages, 16-25 years. Young breeders from several European countries will also compete in the showmanship and clipping classes.
After the closing ceremonies the 2012 Dairy Expo concludes with a banquet where the 2011 All Britain winners will be announced by Holstein UK. Anyone interested in attending can contact the show office for tickets.
The Borderway Centre is a state of the art livestock exhibition space. It adjoins the five sale ring mart at Hetherington & Harrison's site at Rosehill, near Carlisle. Next to junction 43 on the M6 it is geographically the United Kingdom's most central location, and situated on the country's main north-south transport route.

NWF Broathill Farm Youngstock Open Day


2012 Yorkshire Charity Farmhouse Big Breakfast


East of England Smithfield Festival Calf Shows