2012 Yorkshire Charity Farmhouse Big Breakfast
2011-12-12
The countdown has begun to Yorkshire's annual charity Farmhouse Big Breakfast in the New Year.
2012 Yorkshire Big Breakfast hosts Lovesome Hill Farm's John and Mary Pearson are pictured in the Lake District on St. Sunday Crag, with Striding Edge as the backdrop. John was undertaking the coast-to-coast walk in aid of the Bobby Robson Foundation, one of the 2012 Big Breakfast beneficiaries.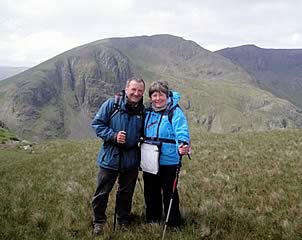 Hosting the three-day fund-raiser in 2012 are John and Mary Pearson, who run award-winning Lovesome Hill Farm B&B, Northallerton, with help from fellow members of Herriot Farm Stay Group. Farm Stay UK is Britain's biggest network of farm-based accommodation providers.

Big Breakfast will return on January 24 to 26, with morning and afternoon sittings catering for up to 150 Big Breakfast guests.

Three charities will benefit from each day's proceeds - the Sir Bobby Robson Foundation, which raises money for the early detection and treatment of cancer, the Farm Crisis Network, which supports problem-hit farming people and families, and Northallerton-based Herriot Hospice Homecare, which serves patients with life limiting illness throughout Hambleton and Richmondshire.

Over the years, Yorkshire Farm Stay members have hosted and raised thousands of pounds for charity through the annual Big Breakfast beano. Once again, hearty Yorkshire farmhouse breakfasts will be served up at Lovesome Hill Farm, with all food sourced on the doorstep in support of local suppliers.

Local businesses and food suppliers have already offered to support the event through sponsorship and product donations. They include Barclays Bank, Darlington, Lloyds TSB Agriculture, Cummins Young Accountants, Thirsk, fellow Farm Stay member Crakehall Water Mill, Stamfrey Farm, Northallerton, Acorn Dairy, Archdeacon Newton, Spring House Farm Shop, Scruton, JM & S Greengrocers, Northallerton, Beavers Butchers, Masham, Yorkshire Dales Meat Co, Patrick Brompton, and Shortridge in Topcliffe.

"The 2012 event is already creating a great deal of advance interest. We are now open for Big Breakfast bookings, while other offers of sponsorship and food donations will also be welcome," said Mrs Pearson.

Lovesome Hill, which received a 'Flavours of Hambleton' accolade in the 2007 Breakfast of the Year Awards, is a mixed beef and sheep farm, rearing Aberdeen Angus beef cattle, along with Mule and Masham sheep, and Hampshire-cross pigs on behalf of a neighbouring farmer.

"Some of their bacon will be on the Big Breakfast menu, so you can't get more local than that!" added Mrs Pearson.

East of England Smithfield Festival Calf Shows


Inaugural East of England Smithfield Festival a Massive Success


English Winter Fair Livestock Showcase