Sky's the Limit for Million Dollar Megastar
2011-12-12
WorldWide Sires (WWS) UK is experiencing extremely high demand for world renowned proven bull, England-Ammon Million.
Million daughter:
Hillhead Million Margot VG87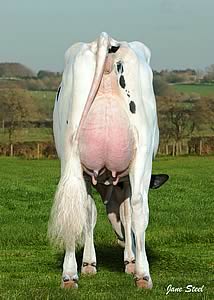 Boasting type (+2.15), longevity (+0.3) and calving ease (+0.7), the Comestar Outside son traces directly back to one of the 'queens of the breed' – Snow'N Denises Dellia EX95.
With AB kappa casein, Million is a superb production bull transmitting +445kgs milk with a combined fat and protein of +31.3kgs.
Second crop daughters are classifying very well in the US and Million maintains his long-standing dominance with 147 new progeny registered in the last two weeks alone, a significant achievement considering this 2003 born sire has headed the US registrations list over 20 times.
UK progeny is following suit with 2,578 animals registered to Holstein UK and his first classified daughter was scored VG87 with an 89 point mammary last month.
As a Superior Settler™ Million is one of the highest ranking bulls in the WWS portfolio for semen quality and as a result, many satisfied customers are experiencing very high conception rates.
Brian Mawhinney from Co Antrim is milking his first Million daughter and says: "She is a heifer to fit any system and gets better each day. She is medium sized with lots of dairy strength and being very easy to manage, is the sort you don't notice.
"She has given an outstanding flat lactation and has received a lot of interest from AI companies with bull contracts already signed."
WWS Livestock Manager, Bryan Challenor, has seen Millions both in the UK and US and is more than impressed with the standard of animal produced:
"All are medium-sized and team dairy strength with superb bone quality.
Rumps are wide with an ideal slope from hook to pin. Udder attachment is phenomenal, being snug in the fore and high and wide at the rear with a silky texture," concluded Bryan.

ALH-Dakota Will Deliver the Greatest Profits!


World Wide SIres Has US No.1 Type Bull Now Available


Lancashire Couple Win NMR Dairy Competition