World Wide SIres Has US No.1 Type Bull Now Available
2011-12-06
World Wide Sires UK (WWS UK) now has semen available from Regancrest S Braxton EX94, the US no.1 type bull in breed.
Luck-E Braxton Pacific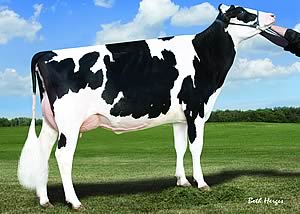 The new graduate is from a pedigree that boasts type and production on both sides, as a Picston Shottle son from the global phenomenon and former no.1 type cow, Regancrest PR Barbie EX92.
His US type figures stand at a massive +3.98, with breed leading feet and legs (+2.46). Fit for the showring, his daughters offer an unbeatable combination of stature, dairy strength and power.
Transmitting exceptional chest width, body depth, rump width and udder support, he will be a great cross on Goldwyn pedigrees to produce world-class conformation.
Shows and Livestock Co-ordinator, Henry Sanderson, travelled to America this year and saw milking Braxton's on farms and at the World Dairy Expo in Madison: "Progeny are stylish, open framed animals with outstanding udders. They track on a great set of legs and have a real will to milk.
"From a functional perspective, daughters are very wide at the chest and carry this right through to their rumps, making room for a big engine which reflects the high milk production produced by daughters."

Lancashire Couple Win NMR Dairy Competition


UK Gets Exclusivity on Outcross and Red Carrier Genomic Sires


25th Annual Black & White Sale