ALH-Dakota Will Deliver the Greatest Profits!
2011-12-12
Dairy Daughters has taken the number one slot on the Profitable Lifetime Index ranking released by DairyCo today, with ALH-Dakota who officially becomes the greatest profit earner in the Holstein breed.
HBC Dakota Loise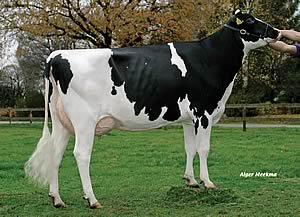 As a tremendous milk transmitter (his Predicted Transmitting Ability is 1,035kg with fat at 34kg and protein at 33.5kg) it is remarkable that he also transmits exceptional health and fitness qualities including low cell counts and outstanding daughter fertility, while he has one of the best daughter lifespan scores of any top PLI bull. Out of a Durham dam and with a PLI now at an impressive £258, he is undoubtedly one of the best Oman sons available world-wide.
As a relatively small UK breeding company, Dairy Daughters scored a coup when it took on Dakota's sire, Oman, who went on to become the most influential sire in the modern Holstein breed with the greatest scope to make dairy farmers a profit. It's early days to say they have scored a similar victory with Dakota, but the signs are looking promising.
"Because of the performance of Oman, there are dozens of his sons on the UK market, but Dakota stands out as the best all-round performer," says Alison Lovell from Dairy Daughters. "In these difficult economic times, farmers need profitable milk production as a priority, and this bull has the scope to deliver better than any. With decent type into the bargain, and outstanding health and fitness, he is definitely a bull to use when economic times are hard."

World Wide SIres Has US No.1 Type Bull Now Available


Lancashire Couple Win NMR Dairy Competition


UK Gets Exclusivity on Outcross and Red Carrier Genomic Sires