Lancashire Couple Win Dairy Competition
2011-12-01
Phillip and Christine Kelsall from Wyreside Farm, St Michaels near Garstang will be taking some time for a European trip early next year, courtesy of NMR.
David and Christine Kelsall receive their £800 of holiday vouchers from NMR area manager Janet Simpson (left)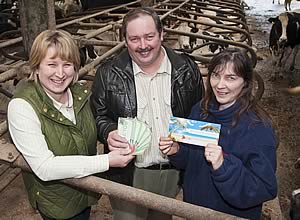 As winners of the company's awareness campaign Philip and Christine received vouchers towards a holiday of their choice. The Kelsalls are planning to turn this into a family affair and take their three children too.
Philip, who with Christine runs the 300-cow Wrightington Holstein herd, entered the NMR awareness campaign at the Dairy Event in September. He got 100% on the six questions connected with Johne's disease and its control measures and was the first name drawn from all correct entries placed through the autumn show season.
Philip and Christine operate strict biosecurity measures on their unit. "Many years ago I read an article about Johne's disease and knew that it was something to keep well under control. This was well before Johne's became more high profile," said Christine, who was especially surprised when NMR area manager Janet Simpson arrived to tell her the good news as she hadn't realised that Philip had entered the competition!
"We have always avoided pooling colostrums and we are very diligent when it comes to calving pen hygiene. We have had the odd case of Johne's stemming from buying in 100 cows for herd expansion purposes six years ago. We have recently done a 30-cow screening test using milk samples and we are confident that, through our careful control measures and further testing, we can prevent any spread."
NMR is continuing its Johne's awareness campaign and a second European break is now up for grabs.

UK Gets Exclusivity on Outcross and Red Carrier Genomic Sires


25th Annual Black & White Sale


Allison Secures Holstein UK's Littlestar Award