Skipton Christmas Rearing Calves Show & Sale
2011-11-22
Christmas came early for father and daughter dairy farmers Trevor and Tracy Hodgson, of Dillicar Farm, Dent, when, on their first-ever visit to Skipton Auction Mart, they achieved a debut championship success in the Christmas show and sale of rearing calves. (Mon, Nov 21)
Pictured with the Christmas calf show champion at Skipton are, from left, Phillip Rowson, of PV Dobson & Sons, judge and buyer Phil Summers, exhibitor Tracy Hodgson, and Phil Coleman, of BOCM Pauls.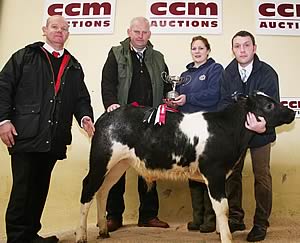 The Hodgsons, who farm 60 commercial dairy cattle, secured the title with their first prize British Blue bull calf, born on October 17, which received the Arthur Newman Perpetual Trophy, presented by Craven Cattle Marts chairman Anthony Hewetson. The victor sold for £420 to show judge Phil Summers, of Clayton, Bradford.

Mr Summers also paid £398 for the reserve champion, the first prize Limousin bull calf from Richard Spence, of Sutton-in-Craven, and £415 for the top price British Blue heifer calf from SA Fairburn, of Dacre, Harrogate,

In addition, Mr Spence headed the Limousin heifer calf prices with a youngster sold at £335 to TM, JM & RT Watson, of Sawley, Ripon, and also presented the first prize dairy bull calf.

Top price in show at £432 fell to the second prize British Blue bull calf from brothers Shaun and Peter Sowray, of Bowes Green Farm, Bishop Thornton, the reigning dairy and rearing calf title holders in CCM's Stockperson of the Year Awards. The buyer was Derek Taylor, of Burton Leonard.

Stephen Hitchen, of Ing Head Farm, Ludendenfoot, calf champion in August and September, again performed well when picking up red rosettes for heifer calves in both the British Blue and Limousin classes.

JR, CJ & D Drake, of Thornton, Bradford, landed a first prize double in the native bull and heifer classes, heading the former at £228 with a Hereford youngster bought by Stephen Pye, of Chipping.

British Blue bull calves averaged £354 and heifer calves £294, with Limousin bull calves averaging £266 and heifer calves £204. The overall selling average was £194 per head. Show sponsors were BOCM Pauls and P V Dobson & Sons.

Westmoor Herd Retains Skipton Beef Shorthorn Title


Fieldens Clinch Skipton Prime Lamb Title


Show Chairman Shows Champion Milker