Fieldens Clinch Skipton Prime Lamb Title
2011-11-09
Frank and Robert Fielden, of Speke Edge Farm, Todmorden, secured their first prime lamb championship of 2011 at Skipton Auction Mart's November show and sale. (Mon, Nov 7)
Frank, right, and Robert Fielden with the October prime lamb champions at Skipton, assisted by judge James Dewhirst, left.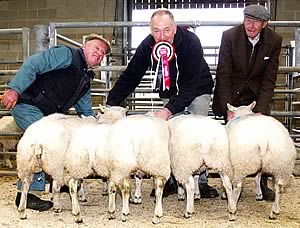 The father and son farmers, past Skipton prime lamb victors, have been consigning around 40 lambs a week since the beginning of August, achieving two second places and a third prize in the Continental classes, along with top price honours last month.

They stepped up to take the title at the latest renewal with a pen of five 41kg Beltex-x-Texel lambs, which sold at £94 per head to Vivers Scotlamb, of Annan, who also paid the same price for the second prize 40kg pen from Richard Caton, of Stainforth.

Vivers Scotlamb then went on to make it a clean sweep of prize-winning acquisitions in the Continentals class when paying top price of £95 per head for the third prize pen from Frankland Farms, of Rathmell, the October prime lamb champions.

Frankland Farms also achieved top price in the Texel class with a pen bought at £104 each by Nick Dalby, of Harrogate, on behalf Kendall's Farm Butchers' shops in Pateley Bridge and Harrogate.

Adrian Leach, of Hebden Bridge, performed well in the sales ring, achieving the day's highest per kg price of 263.6p with a pen of Beltex-cross lambs that also joined Vivers Scotlamb, who acquired two further pens from the same vendor at 246.2p and 240p, along with a Beltex-cross pen from Bill Logan, of Langcliffe, at £99 per head.

Richard Caton also figured prominently, selling a total of five pens from 232.1p/kg to a high of 250p/kg, or £95 each, for five 38kg Beltex lambs purchased by butcher George Cropper for his shop in Accrington Market.

Top price per head on the day at £106 (246.5p/kg) fell to a pen of Charollais-sired lambs from Anthony Thompson, of Foulridge. They sold to Andrew Atkinson, of Kettlesing, on behalf of wholesale butchers Hartshead Meats at Mossley, Oldham.

Brian Lund, of Walshaw, Hebden Bridge, presented the first and third prize pens of Suffolks, the 48kg red rosette winners selling at £84 per head to prime shows judge James Dewhirst, who buys on behalf of Skipton-based Stanforths Butchers.

Robert Crisp, of Calton, was responsible for the first and third prize pens of Mule or Masham lambs, both joining regular buyer Andrew Atkinson, for £75 and £74.50 respectively.

John Smith, of Carleton, exhibited the first prize pen of Swaledales, which made £70 per head when joining Paul Watson, of Hellifield, another regular at the Skipton ringside for his main customer Dunbia at Bamber Bridge, Preston.

With over 3,600 prime lambs forward and strong show classes, Beltex and Texel lambs met with the best trade of the season to date, with a total of 56 pens selling at over 200p/kg. The overall prime lamb selling average was £74.15 per head or 177.7p/kg.

Red Rose beef 'baron' Jimmy Baines, of Trawden, was yet again responsible for the champion and reserve in the prime cattle show, both British Blue heifers that fell at £1,123 (224.5p/kg) and £1,090 (222.5p/kg) respectively to the same buyer – Kendall's Farm Butchers, again for its shops in Pateley Bridge and Harrogate.

The monthly shows were sponsored by Guy Farm Machinery and Phillip Bolland Trailer Training. Next up are Skipton's big annual Christmas primestock shows, on Sunday, November 27, the seasonal highlight for butcher buyers, supported by the third annual Great Northern Pork Pie Fest.

Show Chairman Shows Champion Milker


Stage Set for Christmas Primestock Highlight at Skipton


Welsh and Irish On Song at Skipton Working Dogs Autumn Highlight