Show Chairman Shows Champion Milker
2011-11-09
Kilnsey Show chairman Robert Lambert demonstrated his own showmanship when showing the champion at the opening November Craven Dairy Auction at Skipton Auction Mart. (Mon, Nov 7)
Robert Lambert and his daughter Gina Hodgson with their opening November Craven Dairy Auction champion.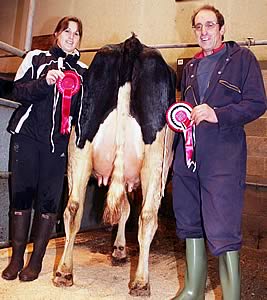 Mr Lambert, of Mile House, Kettlewell, assisted by his farming daughter Gina Hodgson, secured the title with the first prize newly calven Holstein Friesian heifer, home-bred by a dairy bull acquired locally from multiple Craven Dairy Auction champion Brian Moorhouse, of Bell Busk.

Having calved ten days prior to the show and giving 24kg of milk, the title winner remained in local pastures when joining John Howard at Carleton for £1,960, top price of the day.

Judge Richard Close, of Starbotton, awarded the reserve championship to the first prize in-calf heifer from father and son dairy farmers David and John Calvert, of Southfield Farm, West Marton – the first time in recent memory that one of the principal honours has gone to a dairy animal still to calve.

The runner-up, who is by a pedigree Ayrshire bull bought by the Calverts from a leading Scottish herd for 3,600gns, sold for £1,450 to another father and son dairy duo, Malcolm and Robert Swires, of Haverah Park, Beckwithshaw, Harrogate, who hold the modern day record for the most number of Craven Dairy Auction championship wins. Their latest acquisition could well return to the Skipton ring at a future date.

The Calverts, whose herd average is 8,500 litres, achieved a clean sweep of the prizes in the in-calf heifers class with three Ayrshire-x-Holstein heifers, all with calves due in January or February.

The first and second prize newly calven cows came from J Wellock, of Oakworth, with the winner also heading the class prices when sold at £1,370 to Frank Wrathall, of Gisburn.

Dairy auction regular Robert Crisp, of Calton, sold a newly calven heifer at £1,890, while the third prize winner from Raymond and Robert Johnson, of Felliscliffe, made £1,800, the same vendors also achieving £1,740 for a second entry. Alan Midgley, of Ludendenfoot, sold a newly calven heifer for £1,840.

For the first time in many years, a non-black and white dairy animal also figured among the prizes when a newly calven Brown Swiss heifer from Nidderdale's David Brown, of Ramsgill, was awarded the blue rosette. It sold for £1,800 to Robin Boothman, of Fence, Burnley.

Newly calven heifers averaged £1,613, newly calven cows £1,063 and in-calf heifers £1,278. Next up is the Christmas Craven Dairy Auction on Monday, November 21.

Stage Set for Christmas Primestock Highlight at Skipton


Welsh and Irish On Song at Skipton Working Dogs Autumn Highlight


Bradleys Best of Breed at Skipton Dalesbred Ram Show