Westmoor Herd Retains Skipton Beef Shorthorn Title
2011-11-11
The Westmoor herd of Wharfedale's Rob and Penny Paisley secured back-to-back championship successes at the second annual show and sale of pedigree beef breeding cattle on behalf of the North of England Beef Shorthorn Club at Skipton Auction Mart. (Wed, Nov 9)
Rob Paisley with Westmoor Rhona Dido,
Skipton Shorthorn pedigree maiden heifer champion.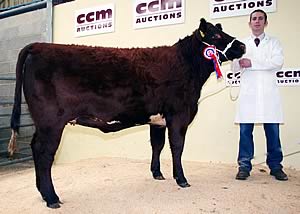 The Paisleys, of Westmoor House Farm, Middleton, Ilkley, kept their hold on the title with a 19-month-old heifer, Westmoor Rhona Dido, like their 2010 champion a product of the highly acclaimed Glenisla Zetor, bought from Scotland four years ago , whose impressive high index credentials place him in the top 1% of the breed for growth and weight EBVs. (estimated breeding values).

In fact, Scottish vendors, buyers and bloodlines were prominent at the fixture, which also had a Scottish show judge in Catriona Gibb, who runs the Blairgowrie-based Glenisla herd with her father Major John Gibb.

The Paisleys' fourth crop daughter of the home-bred Westmoor Rhona 4th was first chosen as the first prize junior heifer, going on to become the top female, before being awarded top honours by Miss Gibb.

It was only after nominating her chosen champion that Miss Gibb learned from the catalogue that it was by a Glenisla sire. She noted: "The victor was very well balanced. In fact, I could not find a single fault with her, which is unusual in a red heifer."

The title winner, recipient of the I'Anson's Perpetual Trophy, presented by sales executive Kath Dewhurst, returned to the Wharfe Valley when joining Chris Bellerby at Weeton for 2,600gns (£2,730).

She was one of six Glenisla Zetor-sired maiden heifers entered by the Paisleys at Skipton, the only venue at which they show. Among them was the second prize junior heifer, Westmoor Dewdrop, out of Westmoor Sophie, sold at2,750gns (£2,888) and the third prize senior heifer Westmoor Zara Cleopatra, in calf to Podehole Cracker, knocked down at 2,650gns (£2,783)

Two others notable performers from the Paisley sextet, Westmoor Dahlia, who is also in calf to Podehole Cracker, and Westmoor Lancaster Daisy, both found new homes in Lincolnshire when joining J&D Haigh, of Market Rasen, for 3,300gns (£3,465) and 3,100gns (£3,255) respectively.

Mr Paisley is a national society director and immediate past chairman of the northern club. Last year, the Westmoor holding was awarded the most improved Beef Shorthorn herd prize in the English Beef and Lamb Executive's (EBLEX) Beef Better Returns Programme.
Shawhill Donald, top price Skipton Shorthorn bull and John Dick, head stockman with Thomson, Roddick & Laurie.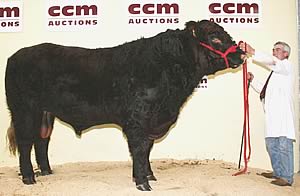 Glenisla Zetor was also responsible for the top price in show at 4,100gns (£4,305). This was achieved by the second prize 21-month-old bull, Shawhill Donald, from Scottish breeders Thomson, Roddick & Laurie Ltd, represented at Skipton by father and son, John & Mathew Thomson.

Their Shawhill herd, which also jointly headed the Skipton prices last year, is based at Annan in Dumfries and Galloway. The dam is Nonpareil of Upsall, who was carrying the top price performer when acquired from the Hon Gerald Turton's Upsall Castle Estate herd at Thirsk.

Donald returned to Scotland when becoming the first-ever purchase at Skipton by Jim Innes, of Dunscroft Farm, Huntly in Aberdeenshire, who put his new acquisition to use on Limousin-cross heifers. One of his main customers is Skipton show bull class sponsor Morrisons Supermarkets plc.

Mr Turton's Upsall herd, established in 1909 and Britain's oldest Beef Shorthorn herd, winning the EBLEX most improved herd prize in 2009, presented the top-priced heifer and second top price in show at 4,000gns (£4,200) with the December, 2009-born Tessa X683 of Upsall, the first prize senior heifer and reserve female champion.

She is a daughter of Bilsdale Anson, bred near Stokesley by David Hollingworth and acquired by Mr Turton in 2008 when supreme champion at the northern society sale at Thirsk. The sire was also responsible for the top-priced 6,500gns bull at the breed society fixture at Kelso last month.

The first calf of the home-bred Tessa X505 of Upsall and herself scanned in calf to the Broughton Park Thunder son, Dingo of Upsall, was bought by North Craven beef and sheep farmers Stuart and Dale Currie, of Beautry Farm, Rathmell.

The Curries also purchased the top price female at Skipton's 2010 fixture, their first-ever Shorthorn acquistion for a new starter herd. Of their latest acquisition, Mr Currie said: "She has a lot of style. If she does as well as the one we bought here last year, we will be more than happy."

The Curries, who run the Northern Equine Therapy Centre at Rathmell, also paid 2,600gns (£2,730) for another Turton maiden heifer, the 15-month-old Broughton Park Thunder daughter Tessa X721 of Upsall. The quality duo supplement the Curries' current holding of four Shorthorn cows and calves.

There were other highlights on the day for the Upsall herd and stock manager Ian Park. Sapphire X706 of Upsall, the first Broughton Park Thunder heifer to be offered for sale, joined Ian Clough, of Stape, Pickering, for 3,000gns (£3,450).

Victoria X369 of Upsall, a 2005 daughter of Woden of Upsall, sold with heifer calf at foot by Atillar of Upsall and in calf to Dunsyre Boneparte, joined H & N Sloan, of Lauderdale in the Scottish Borders, for 3,000gns, top price in class.

Secret X588 of Upsall, a Vortrekker of Upsall second calving daughter, with a Dunsyre Boneparte-bred March-born heifer calf at foot, also headed north of the border when joining Derek Steen, of Lockerbie, at 2,800gns.

Mr Turton also sold an in-calf heifer, Urymaid X719 of Upsall, at 2,100gns, an in-calf cow, Augusta X526 of Upsall, for 1,850gns and a further cow, Secret X583 of Upsall with heifer calf at foot, for 2,200gns

Sale ring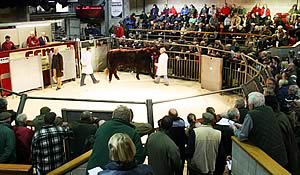 With seven 3,000gns-plus bids on offer, the Cruckley herd of J Johnston at Foston-on-the-Wolds, Driffield, produced the second prize September, 2009-born senior heifer, Cruckley Broadhooks Jem. In calf to Uppermill Jinks, she also headed north of the border when joining J Stewart & Partners in Peebles for 3,200gns (£3,360).

The first prize bull and reserve champion was shown by Calderdale breeders Tracy and Mark Severn, of Brick Green Farm, Barkisland, Halifax.

Highlee Archie, a 19-month-old son of James Biggar's Scottish-bred Chapelton Wildfire, the most profilic Shorthorn bull in the UK, out of Lynthorpe Wineberry, who was was bought three years ago by the Severns when carrying the Skipton runner-up. He sold for 1,900gns to L & B Abbott, of Guiseley, underbidders on the top-priced Shawhill bull.

Farming is a passion, as opposed to a living for the Severns, who run their own business, Machinery Moving Services. Their Highlee Shorthorn herd, which currently stands at 32-strong, was responsible for the female champion and overall reserve breed champion at this year's Great Yorkshire Show, as well as the supreme champion at last year's Halifax Show.

Philip Braithwaite, of Stokesley, sold an in-calf heifer, Kipling Candy, at 1,950gns, with Andrew and Caroline Ivinson, of Sandwick Farm, Ousby, Penrith, selling a 2010-born bull, Sandwick Dynamite, for 1,750gns. Thomson, Roddick & Laurie also sold their April 2009 bull, Connor of Upsall, at 1,700gns.

All but one of the 61 pedigree Shorthorns forward – this the first bull to enter the sales ring – found new homes. Frank Milnes, secretary of the Beef Shorthorn Cattle Society, said: "It proved an excellent show, with an incredible clearance rate.

"Trade was undoubtedly boosted by enhanced confidence in the breed, which is being driven by strong demand for a functional suckler cow, coupled with the current incentive offered by the Morrisons premium for Beef Shorthorn-sired steers through its ground-breaking native breed's programme."

Skipton show female averages were well up on last year, with cows and calves averaging £1,933 (£1,575 in 2010), in-calf cows £1,320 (£735), in-calf heifers £2,084 (£1,351.49) and maiden heifers £1,803 (£1,216). Bulls averaged £2,195.

Results: Bulls – 1 Tracy Severn, Barkisland, 2 Thomson Roddick & Laurie, Annan, 3 Gerald Turton, Thirsk. Senior heifer – 1 Gerald Turton, 2 J Johnson, Foston-on-the-Wolds, Driffield, 3 Rob Paisley. Junior heifer – 1 & 2 Rob Paisley, 3 Andrew and Caroline Ivinson, Ousby, Penrith. Pair of heifers – 1 Rob Paisley, 2 Gerald Turton, 3 Philip Braithwaite, Stokesley.

Fieldens Clinch Skipton Prime Lamb Title


Show Chairman Shows Champion Milker


Stage Set for Christmas Primestock Highlight at Skipton