Stage Set for Christmas Primestock Highlight at Skipton
2011-11-04
The stage is set for Skipton Auction Mart's annual Christmas primestock show and sale, on Sunday, November 27, the region's premier event for butchers seeking to source the best local beef and lamb for their customers' festive tables.
Cross-border butchers, Lancashire's John Whiteside, right, and Yorkshire's Mike Ward square up ahead this year's Great Northern Pork Pie Fest at Skipton Auction Mart. Attempting to keep the peace, centre, is Manorlands fundraiser Matthew Binns.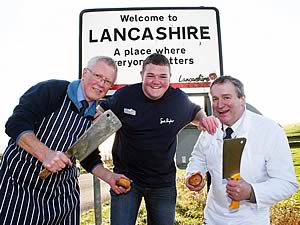 Prestigious trophies are again up for grabs at the 2011 fixture, with supreme champions in both the cattle and lamb sections once more expected to achieve phenomenal prices, as they are much sought after by the region's leading butchers.

Last year's champion and reserve champion were top-notch British Blues. The victor from William and Jonathan Timm, of Horsforth, sold at £2,815 (£4.90/kg), the runner-up from Hayley Baines, of Trawden, at £2,066 (£4.70.kg). Both were acquired by wholesale butchers John Penny & Sons, of Rawdon, on behalf of Bradford butcher John Summers, of Clayton.

Martin and Val Brown, of Newton-le-Willows, presented the champion Betex-cross prime lambs, which sold for a heady £500 per head (980p/kg) to butcher Lancashire George Cropper for his stall in Accrington Market.

Running alongside the Christmas primestock show is the Great Northern Pork Pie Fest - the third annual 'battle of the butchers' from both sides of the border.

White Rose butchers have to date ruled the roost in the competition, clinching supreme championship honours at both previous competitions. However, Lancashire butchers are expected to mount a much stronger challenge this year in a bid to prevent the title remaining in Yorkshire for the third year running.

Craven Cattle Marts general manager Jeremy Eaton said: "Both sellers and buyers of the principal prime performers benefit greatly from the media exposure generated by our Christmas shows, the highlight of the year's primestock calendar at Skipton.

"It's all set to be another fantastic day, with a warm welcome awaiting all butcher buyers or their ringside representatives. The Great Northern Pork Pie Fest creates additional interest for butchers from both sides of the border, who also have a valuable opportunity to talk in person with the farmers who produce the livestock."

Full details of both the Christmas primestock show and the pork pie competition – proceeds are again in aid of Sue Ryder-Manorlands Hospice at Oxenhope, Keighley - are available from Skipton Auction Mart on 01756 792375 and at www.ccmauctions.com

Welsh and Irish On Song at Skipton Working Dogs Autumn Highlight


Bradleys Best of Breed at Skipton Dalesbred Ram Show


Foster Female Champion at Skipton Charollais Highlight