Skipton Beef Shorthorns Peak at 2,900gns Twice
2010-11-16
Beef Shorthorns sold to a top of 2,900gns twice at the breed society's North of England Club inaugural sale at Skipton on 10 November where demand for females reflected commercial producers' growing interest in the breed as a functional suckler cow.
Christoper of Upsall made 2,900gns, the day's top joint bid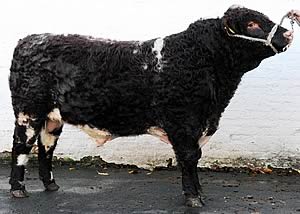 The first 2,900gns call was made for Croxtonpark Blythesome Parsley, a February 2008 born heifer by Chapelton Welcome and out of a homebred dam from the Croxton Park Partnership, Croxton, Huntingdon. She was sold in calf to Chapelton Wildfire to Stuart Currie, Rathmell, Skipton.
The same purchaser went to 1,900gns for another heifer, Albion Lavender Bluebell, a Dunsyre Scarlatti daughter from Paul Braithwaite, Stokesley. Bluebell was sold in calf to Tarrant Arnie.
Christopher of Upsall, a 20 month old bull from Thomson, Roddick and Laurie commanded the second 2,900gns bid. Sired by Vortrekker of Upsall and out of an Upsall bred dam, he went to Jonathan Allison, Appleton-le-Moors, Kirkbymoorside along with two heifers from Gerald Turton, Upsall, York. Mr Allison paid 1,950gns for the 17 month old Tessa Of Upsall, by Alexander The Great Of Upsall and 1,500gns for Augusta Of Upsall, an in calf two year old by Eionmor Mr Gus.
A second 1,500gns bid this time from JE Goddard and Sons, Lockerbie secured Major Turton's Nonpareil Of Upsall, a March, 2008 born Crooked Post Triple daughter, and her nine-month-old bull calf by Walrus Of Upsall.
The next highest lot at 2,300gns was Westmoor Eva 3, a two year old heifer by Newfield Zack and in calf to Pode Hole Cracker, from Rob Paisley, Middleton, Ilkley to WD Kirkby Farms, Wootton, North Lincolnshire. The same breeder offered the day's champion, Westmoor Queen Carmen, a Glenisla Zetor daughter and out of an Aylward bred dam. She was bid to 2,100gns by J Stewart and Partners, Peebles. Following closely at 2,000gns was Westmoor Carnation, an 18 month old by Glenisla Zetor to WD Kirby Farms at Wootton, North Lincolnshire.
A call of 2,050gns secured Ferdinand of Upsall for SC and J Wilkinson, Thirsk. Consigned by Tracy Severn, Barkisland, Halifax, he was an 18 month old by Glenisla Zetor and out of an Upsall bred cow going back to Lock Awe lines.
Averages: 30 heifers £1,311; two cows £735; two bulls £2,598

East of England Winter Fair Beef Shorthorns Sell to 3,800gns


Supply Partnerships Bring Champion Beef to Local Tables


Skipton Primed for Annual Christmas Shows and Pork Pie Fest