New OSR Variety Offers Early Maturity and Low Biomass Without a Yield Penalty 2011-11-28
DK Camelot, one of only three new winter oilseed rape varieties to be added to the HGCA's Recommended List for the East and West in 2012/13, offers growers a number of key advantages over existing varieties: it delivers a consistently high gross output, but unlike its counterparts at the top of the Recommended List, it is early to mature and has a low biomass plant type – important characteristics that can help growers ease harvest workloads and reduce costs.
Beckii Gibbs, seed manager for United Oilseeds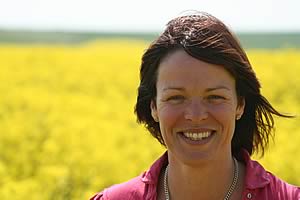 DK Camelot is an open pollinated variety from the Monsanto breeding programme with an excellent gross output rating of 106.3% delivered through a good seed yield and outstanding oil content of 46.4%. "DK Camelot has shown a fantastic consistency of performance over years in official trials. This proven reliability is increasingly important given the changeable and unpredictable UK climate over recent years." explains Beckii Gibbs, seed manager for United Oilseeds.

With an earliness of maturity rating of 6, DK Camelot offers an earlier harvest and in doing so extends the oilseed rape harvest window. "The current trend towards later maturing varieties is pushing the UK's harvest logistics to bursting point," says Ms Gibbs. "DK Camelot is nearly a week earlier to mature than most other open pollinated varieties easing harvest pressures and extending the amount of time available for cultivation prior to the start of wheat harvesting."

DK Camelot also boasts true low biomass credentials with a shortness of stem rating of 8, the same as the now considerably lower yielding Castille. "This offers a number of distinct advantages throughout the growing season and at harvest," Ms Gibbs continues.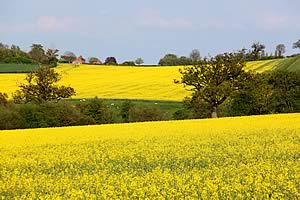 "The shorter crop will suffer less physical damage with each passing of the sprayer and fertiliser spreader, and there will be fewer issues associated with lodging. Having less stem to process will allow for faster combining, with fuel usage reduced by as much as £12 per hectare compared to higher biomass varieties*, and less wear and tear on the combine."

Ms Gibbs believes that DK Camelot is the perfect option for growers looking for a second variety to grow alongside DK Cabernet. "For growers who don't want to put all their winter oilseed acreage into one variety, sowing DK Camelot alongside DK Cabernet offers the winning partnership. With an earliness of maturity rating of 6 for DK Camelot, and 4 for DK Cabernet, the two varieties have different harvest windows which spreads the risks associated with unpredictable weather and unfavourable harvest conditions." Ms Gibbs concludes.

DK Camelot is available exclusively from United Oilseeds and its network of independent seed agents.
* Using information originated by Claas UK, growers can expect to reduce fuel bills by at least £12/ha and increase harvesting efficiency.

BCPC Weed Review Highlights Challenges Ahead for Herbicides


BCPC Medals Awarded at CropWorld Global


GM Crops, Food Security and Overseas Aid Debate Hots Up