BCPC Medals Awarded at CropWorld Global
2011-11-01
BCPC has awarded its highest accolade, the BCPC Medal to William (Bill) J. Angus, Dr. Peter J.W. Lutman, Dr. John Fisher and Dr. Richard (Dick) J. Godwin FREng.
2011 BCPC medallists from left to right Dr Peter Lutman; Dr Dick Godwin; BCPC chairman, Dr Colin Ruscoe; Bill Angus and Dr John Fisher.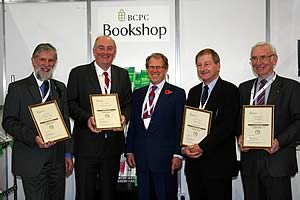 The presentations were made by BCPC Chairman, Dr. Colin Ruscoe on the first day of this year's CropWorld Global conference held at the ExCel Conference and Exhibition Centre, London between 31 October and 2 November 2011. BCPC medals are awarded to people who have made an outstanding contribution to environmentally-sound crop production.
On learning of his award Bill J. Angus said, "I am extremely grateful to BCPC for recognising my contribution to British agriculture with this award. I think it is a positive reflection of the way in which the UK is looking to create more output using a combination of plant genetics and appropriate chemistry. I have always been involved with wheat programmes, which have placed a high level of emphasis on disease resistance breeding but always stressed the need for this to be complemented by targeted agro-chemical use. This approach has been vindicated by this award and hopefully will send a strong signal about how we can produce higher output in a sustainable and environmentally sensitive manner."
Bill joined the Wheat Breeding Programme at the Plant Breeding Institute (PBI), Cambridge in 1973 where he specialised in spring wheat breeding. In 1984 he joined the Nickerson Seed Company and was soon promoted to Head of Wheat Breeding. Bill was a key player in developing the Nickerson UK market share from 4% to a leading position of 44% by 2009, and further introduced the concept of detailed husbandry support for varieties – bringing together a multidisciplinary approach to UK wheat growing.
With the transition to Limagrain, Bill integrated the Advanta and Innoseeds wheat breeding activities – resulting in the current wheat activity of Limagrain UK. Until 2011, he served as International wheat R & D manager for Groupe Limagrain and Senior wheat breeder for Limagrain UK coordinating the international wheat breeding activities of the Groupe – currently the most successful wheat breeder in Europe.
Bill has edited the World Wheat Books 1 and 2, served on the BCPC Strategy Board from 2004 - 2007, was awarded the RASE Technology Award in 2007 and was appointed to the BBSRC Strategy Advisory Board in February 2011.
During his career Dr. Peter J.W. Lutman has worked in weed biology, ecology and control in arable crops at three key research institutes in the UK (Weed Research Organisation (WRO), Long Ashton and Rothamsted). After several project leader roles he became Head of the Weed Ecology Group at Rothamsted in 1995. He has authored or co-authored over 100 scientific papers, longer reviews for research sponsors, several book chapters and has made numerous contributions to the agricultural press.
"I'm flattered to be awarded a BCPC medal and to join a group of illustrious crop production experts honoured by BCPC over many years," said Peter. "BCPC has played a valuable role over more than 50 years in the communication of what is now called translational research (i.e. applied research) to the agricultural community and I like to think that I have played a useful role in resolving weed control problems faced by the industry through my research programmes and my long-time participation in BCPC's Weeds Working group,"
Peter was Executive Committee member and UK Treasurer of the European Weed Research Society, member of the British Beet Research Organisation's scientific advisory committee, and editor of the Journal of Weed Research.
In 1999 he chaired the BCPC symposium on Gene Flow and Agriculture – relevance for Transgenic Crops and between 1987 and 2007 he acted as Session Organiser/Vice Chairman for the BCPC Conferences and the International Plant Protection Congress. He is also Technical Secretary of the BCPC R&D Sub-committee (Weeds).
More recently Peter has been involved in a LINK project on the impact of uncropped land on the wider diversity of arable farms; an HGCA study on spatially selective weed control; a World Bank/FAO project on the impact of agricultural knowledge, science and technology on food production and the environment in Europe and N. America and a Syngenta-funded project on the role of crop management on black-grass.
Dr. John Fisher began his career as an entomologist at Shell Research Ltd. Managing the screening of new candidate insecticides for the control of insect and mite pests of cotton and other crops. After a period in field evaluation and many trips to Central America and Colombia developing pyrethroid insecticides, he took on a broader role in crop protection, including biological control and the development of integrated pest management (IPM) as well as animal and public health programmes. John served as secretary/treasurer on the Pyrethroid Efficacy Group and the Insecticide Resistance Action Committee (IRAC).
John attended his first BCPC Conference in Brighton in 1967 and in 1994 became the General Secretary for BCPC, participating in BCPC's Working Groups, with corporate members and the BCPC Conference. His roles included managing the award of bursaries and BCPC Medals! "Having served on the Medals Committee in previous years I am both surprised and very pleased to be awarded a medal myself! My career has been spent translating results of discovery programmes into best field practice in crop protection and production across a range of disciplines and geography so I am glad to see this sort of activity recognised," said John, as he accepted his award.
John has contributed to a range of symposia and forums, including "Biotechnology 2020". He carried out studies for the Chief Scientist's Office in MAFF, including research into UK sustainable farming – which eventually became a LINK programme. He also managed BCPC LINK Projects on "Integrated Control of Slugs" and "Optimising Pesticide Use by Improving Nozzle Selection".
He has worked for FAO/The International Atomic Energy Authority/Danish Overseas Aid in Central and South America, and been awarded many contracts related to R&D in crop protection, non-crop and public health.
An internationally recognized and multi award winning researcher and educator in the field of agricultural soil mechanics, soil and waste management and precision agriculture, Dr. Dick J. Godwin holds Emeritus, Honorary and Visiting Professorships in agricultural engineering from Cranfield University, the Czech University of Life Sciences and Harper Adams University. He is a former Director of Research, Dean of the Faculty of Agricultural Engineering, Food Production and Rural Land Use and Pro Vice Chancellor of Cranfield University.
A key achievement in Dick's career was his development and delivery of Masters' courses in agricultural engineering, precision farming and soil management, and short courses for manufacturers, advisors and farmers. Dick has refereed over 100 journal publications, 130 conference proceedings, and delivered numerous Keynote presentations and patents for soil implements and soil strength sensing systems.
He served as International Director of the American Society of Agricultural Engineers (1992-94) and President of IAgrE (1994-96). He is a Fellow of ASAE, the Royal Academy of Engineering the IAgrE, the Royal Agricultural Societies (2009) and the Royal Agricultural Society of England. He is Editor of a number of international journal publications, Chairman of the Douglas Bomford Trust, founding Trustee for the Claas Foundation in Germany and a member of the Advisory Committee to the Faculty of Agriculture of the Royal College of Agriculture.
On receiving his award Dick said "It is a great honour for a soil and water engineer to be recognised by the BCPC for the contribution that I have tried to make to crop production in the UK over the past 4 decades and I would like to thank the Council very much for the Award. Whilst good soil and water management has always been vital to both crop productivity and the environment it has been overlooked in recent years. Thankfully, its importance is now being recognized as the demand for improved crop yields and quality, improved water efficiency and reduced energy consumption all impact upon the budgets of the farmer, the consumer and government."

GM Crops, Food Security and Overseas Aid Debate Hots Up


Make Space for Spring Linseed


British-Bred Ryegrass Given Starring Role in New Zealand