Fort Family Show Forté in Lleyn Sheep Arena
2010-11-15
The West Yorkshire-based Fort farming family has notched up a remarkable run of successes this year in Lleyn sheep breeding and show arenas.
Graham Fort with his Ruthin supreme championship 1,350gns shearling ram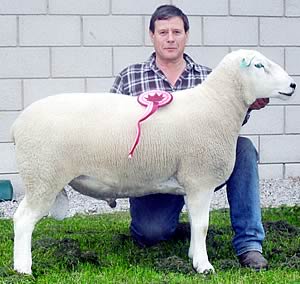 Two generations of the Forts run their own Lleyn flocks from Brighton House Farm, Whitley Head, Steeton, Keighley – parents Graham and Mandy (flock 1299) and their children, Beverley, 26, and 24-year-old Terry (flock 1656).

The breed originates from the Lleyn Peninsula in Wales and over the past decade has caught the eye of many sheep farmers across Britain and Ireland. Lleyns are low maintenance and easy lambing, and will cross effectively with other breeds to produce quality prime lambs.

Graham Fort is chairman of the North & East England Lleyn Sheep Breeders Club and between them the family has 1,100 Lleyn ewes, made up of 750 breeding ewes and 350 gimmer lambs.

They have clinched the supreme championship at three and reserve champion at one of the four Lleyn Sheep Society shows and sales they attended in 2010.

The Forts took the Ruthin Society championship for the second consecutive year with a shearling ram. In a strong class of 16 tups, the family also presented the third prize shearling ram.


Beverley and Terry Fort with their 2010 Skipton Lleyn Society show and sale champion.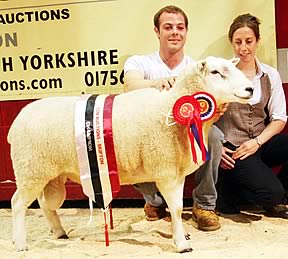 They had the champion ram at the Ross-On-Wye Lleyn Society show, also clinching both supreme championship and top price honours of 1,300gns (£1,365) for the second year in succession with a shearling ram at their local society show and sale at Skipton Auction Mart.

In addition, at the society's high profile Carlisle Premier Sale, the family exhibited the overall reserve champion, a shearling ram which realised £2,000 when sold to Jim Goldie, of Dumfries, and another shearling ram sired by a home-bred ram (1656 07 6472) for 1,650gns (£1,732) sold to Scottish breeder Norman Lawrence, of Blackpots. Aughnagatt, Ellon. The Forts also bought the show champion from the Powys-based Bennett flock in Wales for 3,600gns (£3,780) as a new bloodline.

More recently, the Forts won the North and East England Club flock competition for the second year running.

Graham was also called upon to judge at the new annual Lleyn fixture in Newark, meaning the family could not compete in the show classes. Nevertheless, they were responsible for the top-priced ram at 660gns (£693).

They had another top price success at Kelso with a son of a home-bred ram (1656 076472), which realised £900. The Forts also sold a shearling ram privately for £5,000 to the well-known Lleyn flock at Laga Farms in Orkney.
The Fort family's latest crop of shearling rams are pictured together for the last time
before moving on to the 2010 show and sale circuit.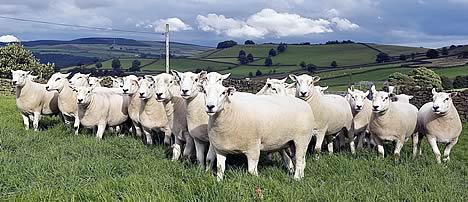 The Forts explained: "Looking to the future, we have retained some first-class home-bred ewes, which will be introduced into the breeding flock this year. Most of them are sired by a prolific home-bred shearling ram (1656 07 6472), which has been responsible for many of our show champions this year. We are looking forward to next year's show and sale season with a quality group of lambs already showing lots of potential."

In addition to their Lleyns, the Forts are also well-known as Suffolk sheep breeders. Here again, they have achieved many notable successes in the exhibition arena.

The family's current Suffolk holding stands at 80 ewes, while also housed on their hill farm, which stands 1,000ft above sea level, are some 2,000 pigs all looked after by the four Forts, who can certainly be said to have discovered their forté in life!

To cap it all, Beverley is making quite a name for herself in the working sheep dog sales arena this year.

At Skipton Auction Mart's Spring sale, her two-year-old black and white bitch 'Pip', a well-bred son of Welshman Aled Owen's dual 2008 International Supreme and World Champion 'Roy,' made 2,400gns (£2,520).

At the latest Winter sale, Beverley headed the puppy prices at 700gns (£735) with her talented five-month black and white bitch 'Nan,' who showed great style. Beverley is currently working on next year's promising youngsters for Spring.

Lleyn Ram Lluest King Sells for £16,000


Easy Care Sheep Top at 1000gns at Worcester


NSA Wales and Border Ram Sale 2010