Lleyn Ram Sells for £16,000
2010-10-08
A Lleyn ram named Lluest King from Dylan and Emrys Jones, Lluest Lleyns, Lluest Wen, Powys sold for a breath taking £16,000 to Peter Sutton, Farm Manager of Trinidad Investments UK Ltd, Rout Farm, West Sussex.
Lluest King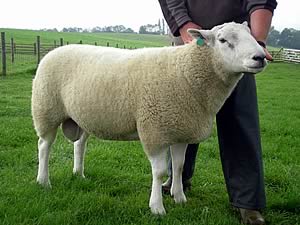 This is believed to be a new breed record, being currently the highest price known to be ever paid for a Lleyn ram Trinidad have a 120 head flock and are well known for winning the champion Lleyn female and overall reserve champion at the Royal Welsh Show this year. Mr Sutton commented, 'we were looking for something special to move our flock forward. We always aim to purchase stock rams in the style to which we wish to breed and king literally stood head and shoulders above anything we had seen before.'
King is sired by the famous Actionman and out of a W24 daughter. His figures show an impressive maternal index of 222 with a carcase index of +276. Dylan Jones says 'he's a powerful ram, with tremendous length.'
The Society has seen an impressive trade across the board this year with an increase on last year at every sale. The Lleyn has become a very popular breed with its modern, efficient, productive and commercial traits gaining it ground with many pedigree and commercial farming systems.

Easy Care Sheep Top at 1000gns at Worcester


NSA Wales and Border Ram Sale 2010


Trade Tops at 1200gns at Easy Care Sheep Sale