Trade Tops at 1200gns at Easycare Sheep Sale
2010-09-21
Penrith and District Farmers' Mart held their inaugural autumn sale of pure bred Easycare sheep on Tuesday 14th September. With a catalogued entry of 700 females and 139 rams, this was the first sale of this kind in the North of England.
Leading the overall day's trade was Bruce Goldie, Dumfries, with a ram lamb selling for 1200gns.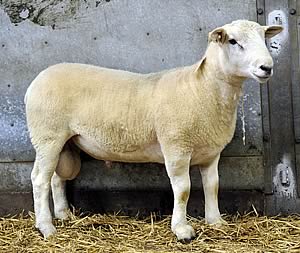 Trade was mixed, with buyers being selective, however, the well fleshed top end sold well, commented secretary Iolo Owen. "With two official society sales this year, the breed is beginning to cement itself as a low input choice with the benefit of helping sheep farmers to cut costs and the management hassle associated with sheep production.
Sale leader throughout the male offering was Bruce Goldie, Townfoot Farm, Dumfries, as he topped the ram lamb section at 1200gns, the shearling rams at 900gns and the aged ram offering at 300gns.
Ringside at Penrith and District Farmers' Mart where trade for pure bred Easycare sheep was strong for well fleshed sorts.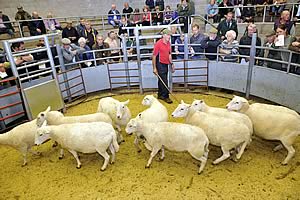 Trade for shearling ewes topped at 95gns for one from Messrs Adams and sons, Northampton, while ewe lambs topped at 70gns for one from D Thomas, Anglesey. Trade for aged ewes saw a top of 90gns from Messrs Steen, Lockerbie, Dumfries.
Averages: Aged ewes £77.58; shearling ewes £94.34; ewe lambs £90.55; aged rams £130.03; shearling rams £216.64 and ram lambs £297.11.
The next sale of Easycare sheep will be held at Worcester Livestock Market on the 25th September.

Reigning Champions Qualify for 2011 World Sheep Dog Trials


Lleyn Sheep Show & Sale at Ballymena


Lleyn Ewes Sell to £202 at Ruthin