NSA Wales and Border Ram Sale 2010
2010-09-22
A good sale with excellent prices for the best sheep across the breeds returned a top price of 8,200 guineas for a Texel shearling ram at the NSA Wales and Border Ram Sale, held at the Royal Welsh Showground on Monday 20 September.
4,800 guineas was paid for Myrfyn Roberts' champion
Blue Faced Leicester lamb.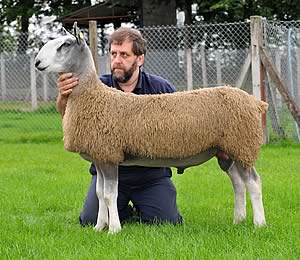 The sale had a total turnover of £2,196,884, almost £2.2million, well up on last year's £1.9million. Eighty seven per cent of the sheep sold. Many of the breed top prices and averages were higher than last year.

Headline prices included 4,800 guineas for a Blue Faced Leicester ram lamb, 4,200 guineas for a Charollais shearling, 2,700 guineas for a Lleyn shearling and 2,700 for a Border Leicester shearling. There was also a record 1,580 guineas paid for a Badger ram lamb, 1,800 guineas for a Welsh Mountain shearling and 2,500 guineas for a Suffolk .

Sale organiser Jane Smith was delighted with the day's trading. She said clearance was up and many of the averages were a good bit higher than in 2009. Buyers had been selective but the excellent quality of the rams forward meant there was a good choice for all.

She added: "There has been a very good trade, with the best quality sheep making some excellent prices. The mood was buoyant and people seemed confident in the sheep industry."

8,200 guineas was paid by Dave Chave of Wellington,
Somerset, for this Texel ram for his Peacehay Flock.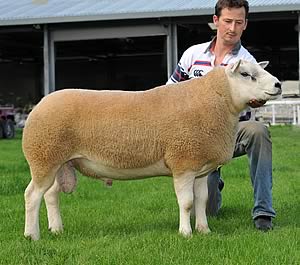 The 8,200 guineas paid by Dave Chave of Wellington, Somerset, for a Texel ram for his Peacehay Flock was a great achievement for Bill and Elizabeth Reed of Upper Scolton, Spittal, Haverfordwest. They have been selling at the NSA Wales and Border Ram Sale for 19 years.
Elizabeth Reed was delighted: "It's been a good sale. We're very pleased. We never show, but our son Andrew chose this tup to go into the show and it stood out. It was second in the ram shearling class."
Buyer Dave Chave was delighted with his purchase. He said he moved well with a leg in each corner and would do well in his Peacehay Flock of 120 ewes.
He added: "I liked the length, the levelness of the tup, his width, his legs and his feet. He's a pretty good sheep and with a shearling what you see is what you get."
The deal was also an achievement for Cefin Pryce of Llanfair Caereinion who sold the father and one other tup to them three years ago. The Reeds in turn were the underbidders on the shearling Texel he sold for 3,800 guineas to the Quick family of the Loosebeare Flock, Crediton, Devon.
Paul Quick said: "He was the longest, cleanest, ram in the market. He is very hard muscled as well, with clean flesh."
The 4,800 guineas paid for Myrfyn Roberts' champion Blue Faced Leicester lamb was also an achievement for the Gaerwen breeder. The ram lamb had taken the championship, making it the second consecutive year for the family's Myfyrian flock to triumph.
It was bought by Alan Clarke of Mosser Mains, Cockermouth, by telephone bid. Mr Clarke had spotted it at Anglesey Show and had followed its progress.
Myrfyn who farms with wife Jayne and son Gareth was delighted: "It's fantastic. I knew this was the best lamb we had ever produced and I am glad that he was so well appreciated.
"Many were bidding on him. And we're hoping to buy a third share back, we have so much confidence in him. The Blue Faced Leicesters have sold well this year. "
The Charollais reserve champion shearling ram bred by the Probert family of Leominster, Hereford, sold to Adrian Davies of Manordeilo and D J Curran of Talgarth for 4,200 guineas. Breed secretary Carol Barber said the breed had enjoyed a good trade, particularly among the shearlings, with fleshy well grown animals achieving 600 to 800 guineas from commercial buyers.
A Lleyn shearling and a Border Leicester shearling each sold for 2,700 guineas. The Lleyn was bred by Emrys and Dylan Jones of Commins Coch, Machynlleth, and went to Simon Kavanagh, Skipton, North Yorks. The Border Leicester was the breed champion bred by Jim Brown of Northumberland and sold to Messrs Whitcombe of Petersfield.
A Suffolk ram lamb produced by the Davies family of Llangorse, Brecon, sold to Jim Jones of Nantgaredig for 2,500 guineas. Mr Jones said it had just the conformation he was looking for, it had been an excellent sale.
It was also a great day for the Joseph family of Llyswen, Brecon. They achieved a record 1,580 guineas for a Badger Faced Torddu ram lamb sold to Mrs A V Brigg of Warwick.
The lamb was bred by the youngsters in the family, 18 year old Christie, 16 year old Alex and 15 year old Ryan. They have been breeding the flock on the family's beef and sheep farm for nine years and have worked hard to achieve the correct markings.
Other prices included 1,000 guineas for a Berrichon du Cher ram lamb, 2,080 for a Beltex ram, 1,100 for a Blue Texel ewe, 650 guineas for a Beulah, and 1,450 for a South Country Cheviot .

Trade Tops at 1200gns at Easycare Sheep Sale


Reigning Champions Qualify for 2011 World Sheep Dog Trials


Lleyn Sheep Show & Sale at Ballymena