S&A Fabrications Buck the Recessionary Trend
2009-12-22
Barnard Castle-based S&A Fabrications, which has previously specialised in building conventional agricultural buildings in The North of England, Borders and South Scotland has had one of its most successful years to date – despite the recession that has crippled many construction companies.
That's largely due to a commitment among many farmers to invest in the future on the back of the projected rising demand for food and the innovation of, and interest in, The Roundhouse - built by sister company Roundhouse Building Solutions Limited (RBSL).
The success of The Roundhouse has resulted in S&A expanding way out of its core trading area, with new Greenfield dairy and beef units being built all over the country. It has also forged international distributor agreements - the first one being with ID Agro, based at Lemelerveld, 80 miles due East of Amsterdam. Like RBSL, ID Agro is a company which specialises in the development of innovative livestock buildings which like the Roundhouse, either saves farmers money on construction costs or improves livestock performance and /or labour utilisation.
RBSL also picked-up another three awards this year for The Roundhouse - one for construction innovation from Constructing Excellence in the North East (CENE), another for innovation from the Galvanizers Association and one for its environmental credentials from The Green Organisation. These awards, plus the 2007 Country Landowners Association's President's Award for the Best New Building in England and Wales and the Silver medal for innovation which it secured at the 2008 Royal Highland Show, make it the most "decorated" agricultural building in the country.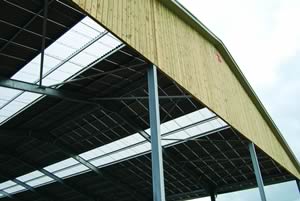 In 2009 RBSL saw the first Roundhouse constructed to house breeding sows, with a double Roundhouse construction in Scotland. A building was also built for finishing deer in Yorkshire. These projects came on top of several more sales into the beef finishing and dry cow sectors. More recently planning permission has been granted for the first Roundhouse robotic milking unit, and construction of that is due to start shortly. Developments in these sectors now mean that The Roundhouse has been sold into virtually all livestock sectors, with just the sheep sector to go.
"The building's excellent ventilation and superb environment for livestock makes The Roundhouse ideal for all types of stock, while its (optional) integrated handling system makes handling the animals easy, safe and quick," says S&A and RBSL sales manager Simon Pelly. "Animals thrive in the building, and stockmen love working in it because the animals are so relaxed and content, and because the handling facilities are second to none." Such is the labour saving ability of The Roundhouse that one farmer has installed two Roundhouses to rear several hundred calves a year from just after weaning to 12-15 months old, and does not believe he will have to employ any extra labour to do so.
However a round building doesn't suit every farmer or every situation, and in several instances a farmer opts for a conventional building instead - hence the spin-off benefits for S&A.
"The flexibility we have with the conventional side of our business means we can offer a building solution for every situation, no matter how large or small," says Mr Pelly.

Property Auction Success at Fisher German


New Job Opportunities, but Few Takers


Planning Decision Boosts Local Economy