Property Auction Success at Fisher German
2009-12-15
Fisher German LLP, chartered surveyors and specialist property consultants held another successful collective property auction on the 9 December 2009.
Auctioneer, Andrew Ranson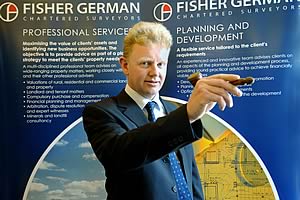 Nearly all the lots were sold and a deal for the only unsold lot was agreed shortly after the Auction. This follows their last highly successful collective Auction in September where they sold 13 of the 15 Lots at or before Auction, and have subsequently completed sales of the two unsold lots.

Auctioneer, Andrew Ranson, says "we are very proud of our success rate which has averaged 91% over the year, compared to the national average of 72%. Here at Banbury we have sold 30 of the 33 properties offered raising almost £6 million. Whilst entries are back considerably from our record year last year we are still ahead of the regional competition."

Fisher German's Auction results are published on their website www.fishergerman.co.uk. Highlights included the popular development opportunity with approximately 20 acres of let land at Swalcliffe Lea which sold for £380,000; an investment block of let agricultural land at Warmington (20 acres), which sold for £81,000; and an attractive canal side cottage at Watford requiring modernisation, which sold for £150,000.

Mr Ranson points out that "amongst the vendors in our recent auction were executors, a family trust and British Waterways, all of which were keen on the openness and transparency provided by the auction process, with the advantage of demonstrating best value has been achieved."

Mr Ranson remarks "we have sold a large number of properties by auction this year for executors, trustees, charities and public authorities who have a duty to demonstrate they are maximising the value of their assets."

Regularly, an auction sale of the right sort of property will achieve a higher value than the private treaty process. This and the binding deal on the night are generally the most important advantages to most sellers. Another advantage was demonstrated by the complicated property at Swalcliffe Lea. This had numerous unresolved legal and planning issues, which would have been almost impossible to exchange contracts on, by the more conventional private treaty route. At auction, five weeks after instructions were received, contracts were exchanged.

Fisher German is currently taking entries for their next collective sale planned for the 17 February 2010 at the Cricket Club in Bodicote, Banbury. For further information or a free appraisal contact Andrew Ranson on 01295 271555.

New Job Opportunities, but Few Takers


Planning Decision Boosts Local Economy


Countdown Begins Again for Charity Farmhouse Breakfast 2010