Planning Decision Boosts Local Economy
2009-12-03
Rural specialists, George F. White have praised the efforts of all parties concerned in a move to develop the Wemmergill Moor in Upper Teesdale, part of the North Pennines AONB.
Maria Ferguson, Head of Planning & Development at George F. White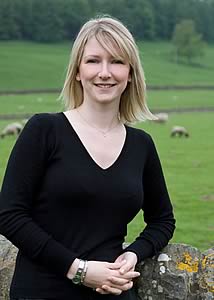 By granting permission for three access tracks, Wemmergill - one of England's premier grouse moors –will be more accessible to farmers, gamekeepers and visitors. The decision shows that measures to boost the local economy can still be sympathetic to an area's special conservation needs.
Working with landowner Michael Cannon of Wemmergill Estates Ltd and planners at Durham County Council, the planning team at George F. White was successful in obtaining permission for three surfaced tracks totalling 5km with associated vehicle parking areas. This easier, safer access to the moor will have a positive effect on its commerciality. Previously conditions have been much more difficult for those working on and visting the moor where the highland terrain is dangerous especially in bad weather. Now farmers will be able to tend sheep, gamekeepers will be able to manage the Estate more effectively, visitors will find it easier to walk the moor during commercial shoots and emergency vehicles will have better access to this remote community.
Commenting on the planning process which began in May, Maria Ferguson, Head of Planning & Development at George F. White said, "This was a real team effort between us, the Wemmergill Estate and Durham County Coucil. Despite this being a contentious proposal, the local authority were extremely understanding of the needs of the Estate. By appointing a professional team to work on obtaining consents from both Natural England and the planning authority, the Wemmergill Estate has demonstrated its commitment to work with the Authorities favouring the significant conservation and landscape interests of the Wemmergill Moor. This planning approval will allow the continued success of Wemmergill commercial grouse moor bringing wider benefits to this rural area in terms of local employment and supporting local services."

Stretching across 15,000 acres of the Northern Pennines, Wemmergill Moor is an area of outstanding natural beauty and a Site of Special Scientific Interest. Consequently any planning permission must take into account the conservation of the landscape and its population of merlins, moorhens, short eared owls, red grouse, snipe, curlews and redshanks and the moor is subject to some of the highest levels of planning and environmental protection in England. Traditionally there is much resistance to tracks in areas such as this, so the planners' decision shows an acknowledgement of the need to balance the protection of both the local environment and the local economy.
The Wemmergill Estate has already invested heavily in the grouse moor including restoring important habitats and improving many of its tenanted properties. Thousands of visitors from around the world enjoy the shooting season and in turn spend considerable amounts with local accommodation providers, shops and restaurants safeguarding local jobs.
Anyone interested in finding out how the George F. White Planning Team can help them with their planning applications should contact Maria Ferguson at the Wolsingham office of George F. White on Tel. 01388 527966.
George F. White has offices in Alnwick and Tyne Valley in Northumberland, Wolsingham and Barnard Castle in County Durham, Bedale in North Yorkshire and Park Lane in London www.georgefwhite.co.uk.

Countdown Begins Again for Charity Farmhouse Breakfast 2010


Calving Cameras - Give a Farmer a Good Night's Sleep for Christmas


Permits for Metal Detecting on Farm Land?