2009-09-21
The financial arguments for selecting the best available grass varieties are very strong on yield alone, but if quality differences and factors like extended grazing are also considered the figures become quite staggering.
Paul Billings of British Seed Houses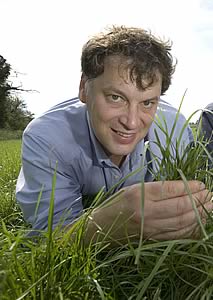 So argues Paul Billings of British Seed Houses, who used examples from the latest Herbage Variety Guide to emphasise these points at Dairy Event 2009.
"Looking specifically at grazing yields, the intermediate perennial ryegrass AberStar is the highest yielding on the NIAB Recommended List and offers a 1.1 t DM/ha advantage over the lowest yielding variety on the list," he points out. "Using the Kingshay cost of production for grazed grass figure of £79/ t DM, this gives a 'top to bottom' financial benefit of £87/ha."
Applying the same rationale to first cut silage yields, where the highest third year yield comes from the new perennial ryegrass AberBite (offering 1.94 t DM/ha than the lowest yielding on the list), he says that the 'top to bottom' advantage based on Kingshay's first cut forage cost of £109/t DM is an astonishing £211/ha.
"Yield is only part of the story," he adds, "as the difference between best quality and poorest quality on the Recommended Lists is even starker. The 'top to bottom' differential on grazing D-value on the NIAB lists is five points, with AberStar again leading the way at 79.2 D compared with the lowest at 74.2 D. This again leads to significant financial consequences.
"One unit of D-value improves animal performance by 5%, so even within the list the difference between the best and worst performers could be as much as 25%. Alternatively, DARD in Northern Ireland equate one unit of D-value to 0.2kg/cow/day of dry matter intake and 0.4kg/cow/day of milk yield - so that's 2 litres/cow/day extra from using the best listed variety instead of the worst listed.
"The advantages of improving sward quality by selecting the best available varieties really are very strong indeed. Of course management is also very important, but starting with the right material offers a substantial head start."
British Seed Houses has applied the same financial evaluations to mixtures in its 2010 Aber Premium Mixtures catalogue, which was launched at the Dairy Event and Livestock Show. In the catalogue, the company makes financial comparisons with weighted NIAB Recommended List averages to illustrate the value of including the best varieties in mixtures.
The Aber Premium Mixtures catalogue, together with the latest Herbage Varieties Guide, was available from British Seeds Houses at the event and can be obtained through www.britishseedhouses.com or by calling 01522 868714.

Guide to Growing and Grazing Perennial Chicory


Two New Very Early Maturing LG Maize Varieties Launched


Proven Roundup Tank-Mixing Flexibility Extended