2009-09-08
Two new varieties from the LG maize breeding programme which mature very early have made their debut on the NIAB Descriptive List for 2010 – Artist, a maturity class 10 variety and LG31.81, ranked maturity class 9.
Artist, one of two new very early maturing varieties from Limagrain's LG maize breeding programme.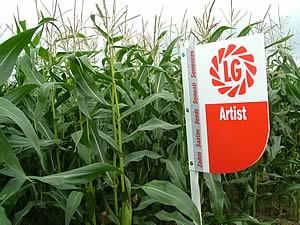 Limagrain UK's Tim Richmond explains: "After yet another summer which lacked in sunshine and heat, maize growers in marginal areas need to make early maturity a priority when deciding which varieties to grow. These two new varieties are amongst the very earliest maturing on both the Favourable and Less Favourable 2010 NIAB Lists, and offer the opportunity to make very good quantities of quality silage."
New maturity class 9 variety LG31.81 is ideal for growers wanting maximum starch yields. It has an extremely high plant starch content, the second highest on the less favourable List where it yields 6.2t/ha of starch and 16.97t/ha DM. At favourable sites, LG31.81 achieves a DM yield of 17.62t/ha and an excellent starch yield of 6.3t/ha.
An even earlier variety is Artist which is in maturity class 10. At less favourable sites, it is the highest DM yielding of all varieties in both its own and earlier maturity classes, achieving 17.66t/ha DM and yielding 6.2t/ha of starch. On the favourable sites List, it yields 18.15t/ha DM and 6.2t/ha of starch and has the second highest ME of 11.3 MJ/kg DM.
For more information on Artist and LG31.81, farmers can visit the website www.limagrain.co.uk/maize.

Proven Roundup Tank-Mixing Flexibility Extended


Soils And Climate Change - A Vital Link


Milling Wheat Quality Looking Good