2009-09-19
A new booklet highlighting the grazing potential of perennial chicory was launched by British Seed Houses at the Dairy Event and Livestock Show.
Management of swards containing perennial chicory is covered in British Seed Houses' new booklet.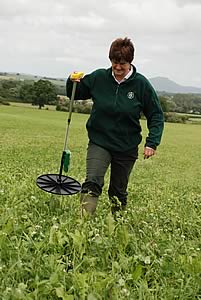 Freely available to all UK livestock farmers, the booklet highlights the key benefits of the variety Puna II and covers successful establishment, sward management, UK-based research and grower testimonials.
Puna II perennial chicory, which has been selected and bred in New Zealand, is suitable as a highly palatable and nutrient-rich grazing herb for cattle and sheep. It can be grown as a monoculture or as part of mixed swards with grass and clover, or just clover. Puna II is available in specialist mixtures from British Seed Houses and as an optional inclusion throughout the company's Aber Premium Mixtures range.
Copies of the booklet are available by contacting British Seed Houses on 01522 868714 or through the company's website at www.britishseedhouses.com.

Two New Very Early Maturing LG Maize Varieties Launched


Proven Roundup Tank-Mixing Flexibility Extended


Soils And Climate Change - A Vital Link