2009-08-27
There are many ways to prepare for climate change but good soil management is fundamental for all the land-based industries.
Soil event group at Mid-Coull Farms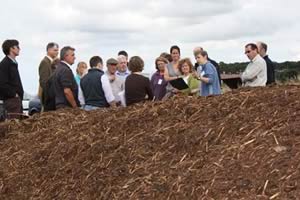 With more volatile climatic conditions predicted, good soil structure will be needed to ensure the best crop production possible. Careful management of fertilisers and manures can minimise agriculture's contribution to climate change through reduced loss of greenhouse gasses (GHGs) and increased carbon sequestration.
SAC have been working with the Soil Association in a series of "climate change" events across Scotland this summer. They are part of a three-year skills development programme, which will equip 500 farmers and growers from 150 businesses with the skills and knowledge to both improve business sustainability and reduce greenhouse gases.
Earlier this August those gathered in Cawdor Village Hall heard Christine Watson and Bruce Ball explain about soil, carbon and nutrient management. Participants from as far afield as Skye, Orkney and Perthshire brought soil samples of their own and learned about visual soil assessment techniques.
In the afternoon the group visited Mid-Coull Farms to discuss how the management techniques they had been learning about were being put into practice in the production of organic vegetables with organic carrots and lush red-clover grass leys. Organic chickens are also produced on the farm and the group inspected the windrows where chicken manure is composted with other farm waste – as anyone on the A96 between Nairn and Inverness can see!

Milling Wheat Quality Looking Good


Bold Harvest Results for New Gallant Wheat


BCPC Urges Minister to Challenge Brussels on GM Legislation