Cheap Food Era Over: Leadership Must be Based on Science
2009-Apr-01
"The world faces a food supply crisis, for the developed world the era of cheap food is over. That means tough, unpopular decisions for consumers and governments, but they must be based on sound science." That was the message given by SAC Chairman Lord Jamie Lindsay to an audience in Dumfries attending one of the "Crichton Conversation" series of events organised by the Crichton Foundation.
Lord Jamie Lindsay addressing the Crichton audience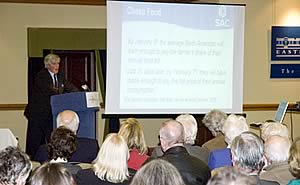 In an address designed to stimulate debate, Lord Lindsay identified trends which show the global population rising to 9 billion in 2050 requiring a doubling of food production just to meet demand. Today the level of food stocks is falling, leaving us doubly vulnerable to droughts, floods, pests and diseases, all driven by climate change. There were fears over shortages of the land, water, fertilisers and energy we would need, while the populations of developing countries like China and India increasingly demanded the kind of careless affluence we have taken for granted.
"Food security has a cost," said Lord Lindsay. "But it is not just about the economics. Equally important are issues like social justice, international relations and the impact on the environment." The SAC Chairman called for a rethink on attitudes to food production research and new technologies. "There is no quick fix," he said. "Some decisions will be difficult, especially where it involves either forcing or inducing changes in behaviour or preferred choices."
According to Lord Lindsay, governments had a responsibility for ensuring coordinated measures are effectively delivered across all fronts. "This is no time for complacency," he said. "Ministers must pay heed to their advisers and recognise previous policies and attitudes no longer apply."

All Together Now at English Farming and Food Conference


New FAO Food Price Database Launched


Links in the Food Chain? It's All Together Better