All Together Now at English Farming and Food Conference
2009-03-27
"Working more closely with a processor has given me the opportunity to develop the Lilburn brand into a shop and get it in front of consumers," was the positive message given by Ray Field, Lilburn Estates Farming Partnership at an English Farming and Food Partnerships (EFFP) conference.
Back from left: Jerry Dyson, Coors Brewery; Sion Roberts, EFFP; David Evans, Morrisons.
Front: Gerry Maguire, Linden Foods; Ray Field, Lilburn Estates; Mark Holdstock, BBC Radio 4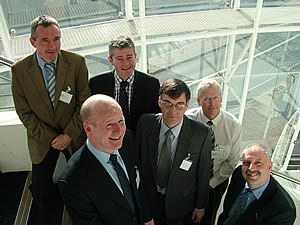 Ray, along with key speakers from the whole supply chain, highlighted the importance of and the benefits of building supply chain relationships. The All Together Now conference, sponsored by One North East, held last week brought together a cross section of delegates from the North East's food and farming businesses. The key message was that while British farmers can benefit from an increased demand for British produce, more will be gained by the supply chain from working together rather than in isolation.
Mark Holdstock of BBC Radio 4's Farming Today, who chaired the event, was joined by some of the biggest names in the industry. The conference was opened by Sion Roberts, Chief Executive of EFFP who outlined the opportunities arising from changes in the worlds agricultural and food markets which could benefit farmers taking a more strategic approach.
As the value of the pound declines importing food has become less attractive. "There is an excellent opportunity in the UK at the moment to regain some of the market share taken by imported produce." said Sion Roberts. "Our belief at EFFP is that a more strategic approach and closer relationship between farmers and food companies is one of the key elements to unlock that opportunity."
In common with many of the speakers, Sion shared the view that the era of cheap food is over despite a predicted drop in food inflation. This will have a considerable impact on the global food market. "We are going from an era where there was a constant surplus where buyers had their pick of suppliers to a tight supply of basic food products. The upshot is that securing supplies has become more important to buyers. More are now considering offering farmers longer-term contracts and paying them a premium" said Sion.
Gerry Maguire, Managing Director of Linden Foods, next to speak, gave insight into a new initiative to develop a supply chain for rose veal. Linden Foods purchased Whitley Bay and Coast & County abattoirs in 2008 and are working to develop new opportunities for livestock from the region in the home market and abroad. The Rose Veal initiative, created by Linden Livestock, is a response to problems facing the Northern Irish red meat industry and parent company Linden Foods.
The initiative sources dairy Holstein calves for the farmers who then all raise them to the same high welfare guidelines whilst on farm. Initial investment from the farmer is in the calf house, Linden Livestock supplies them with the calves, feed and milk. At the end of the feeding period the farmers receive a guaranteed payment per head based on the performance of each calf. "Rose Veal is already attracting considerable interest from the food service and retail market and Linden Foods is developing a branded supply chain from farm through to the plate which will give benefit to all involved," said Gerry Maguire. "The initiative is now on target to have seven veal units up and running by the end of the year followed by further three units in 2010."
David Evans, Head of Agriculture at Morrisons supported the emphasis on local produce and the importance of supply chain relationships in securing supply. Britain's fourth biggest retailer now sells 100% British beef, lamb and pork through its 'closer to source' programme which sources as much as possible direct from the producer. While pleased with the supply chains developed so far, Morrison's aim to go further still in the future. "If we're 100% British now, we need to be 100% British in 10 years time," he said.
This emphasis on British produce has benefited local farming business Lilburn Estates Farming Partnership who rear 30,000 sheep on their estate. When first considering marketing their livestock independently the estate identified two key factors which influenced their way forward; the significant cost of launching a brand and that on its own its marketing power was relatively limited. However developing relationships with partners in the supply chain and selling through agents has been a much more viable option and helped match production to different customers needs. Lilburn Estates supplies cattle to the Givendale Prime brand, which is being developed in conjunction with the Beef Improvement Group, and a proportion of the lambs are marketed under a Lilburn brand, developed with Dawn Meats, which is being sold through Costco. By developing these niche brands in partnership with others in the supply chain, the estate is able to achieve a premium for their products and develop new markets.
Doug Gray, North East Regional Manger, EFFP said, "Lilburn Estates clearly have significant volume of product to supply and processors are keen to talk to suppliers with large numbers of animals and the opportunity to develop a supply chain for Rose Veal with Linden Foods also demonstrates how processors are keen to work with farmers to source their raw materials. EFFP are currently working with a number of groups of farmers and their marketing agents across the county who are looking to work more closely together and achieve the benefits partnership working can bring."
The conference, funded by One North East in association with EFFP encouraged food and farming businesses to think more strategically in their marketing and sourcing products. Jo Celerier from Blagdon Farm Shop who attended conference said, "As well as having the chance to hear expert opinions on trends and opportunities, the event was provided chance to swap practical experiences. As farmers, we got a valuable insight into global agricultural markets and developments at all levels of the UK farming industry from farm to shelf"

New FAO Food Price Database Launched


Links in the Food Chain? It's All Together Better


New Quality Standard Beef and Lamb Website from EBLEX