Links in the Food Chain? It's All Together Better
02/03/09
"Farming to food businesses, the key players in the food supply chain, should work more closely together for the benefit of all", is the key message of the North East's most innovative conference programmes, announced today.
David Hall, Regional Manager, EFFP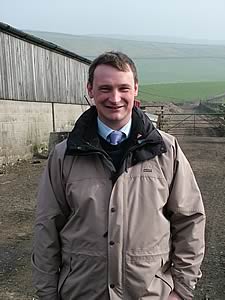 Chaired by Mark Holdstock of BBC Radio 4's Farming Today and You and Yours, and taking place on 18 March at St James' Park, Newcastle, the 'All Together Better' conference is open to all involved in the food chain and is organised by the English Farming and Food Partnerships (EFFP).
Mark will be joined by some of the biggest names in the industry, representing all links in the food chain, including Jerry Dyson of Coors Brewers, David Evans of Morrison's Supermarkets, Gerry Maguire of Linden Foods, and Ray Field of Lilburn Estates.
This conference is designed to explore key themes of continuity, quality and security of supply, the aim is better value for all the chain's contributors. The key message is to promote working together as being mutually beneficial for both sides. By building their relationships with farmers those in the supply chain can negotiate secure supplies at reasonable fixed costs giving them a strong competitive advantage. For farmers too the advantages of securing long-term contracts are obvious and equally allows them to take back markets which are have been lost to imports or discover new markets to replace them.
David Hall, Regional Manager, EFFP says," The conference is the first of its kind to look at the whole supply chain - there has never been anything like it before. The calibre of speakers is second to none. We have put together a range of experts who represent an innovative approach to the sourcing and supply of British Food right through from the field to the food retailer".
Representing the first link will be Ray Field, Farm Manager of Lilburn Estates. Ray will give his insights into how building these kind of relationships has been vital for increasing their business. Lilburn Estates now market beef into Scotland and sell in the region of 500 lambs per week into wholesalers Costco. Ray says: "Here at Lilburn we have developed a range of marketing outlets for our products working with a number of processing partners to ensure that we can maximise the value of our stock. These relationships have developed over a period of time and are based on mutual trust and understanding".
Sion Roberts, CEO, EFFP will discuss the strategic implications of the global economic downturn for UK food and farming businesses turning the current economic downturn things on its head and talking about bucking the trend and how food and farming businesses can still find new opportunities.
Jerry Dyson, Strategic Manager from Coors will be looking at how branded supply chains can be used to gain competitive advantage. Through developing relationships with UK farmers, the beer's parent company is hoping to source ingredients more locally to reaffirm Carling as a British brand.
Gerry Maguire, Managing Director of Linden Foods will continue this theme looking at how food companies can connect with farmers and bring processing into the region.
David Evans, Red Med Coordinator for Wm Morrison Supermarkets, plc will bring the formal part of the day to a close looking at the benefits from a supermarkets point of view of getting closer to their suppliers.
The conference is funded by One North East, is delivered by EFFP in association with The North East England Food & Drink Group, and the NFU with the aim of encouraging food and farming businesses to think more strategically about the various options that are open to them. As well as having the chance to hear expert opinions on future trends and opportunities, attendees will have valuable networking time to swap real experiences and ideas. Outcomes are intended to be used in a practical way to help everyone involved move forward.
It is open to anyone involved in the supply chain throughout the North of England who is interested in maximising efficiencies and exploring new markets. It takes place at St. James Park from 12.30 on March 18th. The 100 places will undoubtedly be at a premium so anyone interesting in attending should contact Enid or Clare at the National Farmers Union on Tel. 01904 451550 or email northeast@nfuonline.com.

Great Yorkshire Show 2009 Tickets Now on Sale


IAgrE Landwards 2009 Conference


Open Farm Sunday 2009