The Hunt is On, Are you a Butcher, a Baker or a Muesli Maker?
03/03/09
Fodder is a new concept food shop and cafe set up and championed by the Yorkshire Agricultural Society (YAS).
Yorkshire Agricultural Society Deputy Chief Executive Heather Parry and the Fodder's first supplier Caroline Sellers of the East Yorkshire based Side Oven Bakery. Fodder, a regional sourcing food hall and cafe opens in June at the Great Yorkshire Showground site in Harrogate. Heather is currently searching for the best local food producers across Yorkshire and Humber to supply Fodder.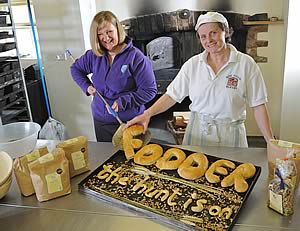 The aim of the venture, which opens in June this year, is to inject new life into the rural economy and support the region's farmers and producers, whilst offering consumers the best food and drink from the region.

Heather Parry, Deputy Chief Executive of the YAS and self-styled "woman on a mission," is on the hunt for the finest producers Yorkshire and the Humber have to offer.

"I've been scouring the countryside looking for the best Yorkshire produce. I've tasted everything from bilberries to butter and I want to leave no cake untested and no loaf untried. I'm looking for produce that is of excellent quality, tasty and made with passion," said Miss Parry.

"I also want Fodder to act as a springboard for new businesses. Maybe you're a brilliant home baker and want to start up a business. We're looking for delicious food and a commitment to locally-sourced ingredients, coupled with excellent hygiene standards in production."

She added: "For our café, we want to employ shop staff who are passionate foodies, creative butchers, dedicated deli assistants and fabulous waiters and waitresses. The quality and enthusiasm of the staff need to match the quality of the products."

"I'm personally visiting each producer, to see how the butter is churned, the bread is baked and how the chicken is reared. Our aim is to sell local food with integrity," explains Miss Parry.

One producer who has passed the Fodder selection process is Caroline Sellers of the award winning Side Oven Bakery. Caroline produces a range of artisan breads, flours and mueslis primarily using home grown produce from their farm.

"The Side Oven Bakery was given a £4,000 grant in 2004 by the Yorkshire Agriculture Society's initiative Growing Routes, which supports small rural businesses," explains Parry.
The Side Oven Bakery is based at Carr House Farm in Foston on the Wolds near Driffield, East Yorkshire. The 190 hectare farm converted to organic production in 1999 and produces a wide range of grains that are milled in a traditional stone ground mill for use in the bakery. They farm using traditional crop rotation methods and produce juices and cordials from apples, elderflowers and soft fruits grown in their three hectare orchard.
"It's brilliant to see the money was well spent and that the business is clearly thriving and innovating. The bakery's wood oven is fueled by sustainable woodland on the farm. They mill their own flour and bake a wide range of utterly delicious breads. They've not only built a bakery, but they've started making a range of juices as from their orchard apples and hedgerow elderflowers."

If you have a product you'd like to see on the shelves of Fodder contact Heather Parry on 01423 546253 or email: heatherp@yas.co.uk

Fodder is run by the Yorkshire Agricultural Society, a registered charity which runs the annual farming and rural events, the Great Yorkshire Show and Countryside Live. It is also supported by Yorkshire Forward.

Links in the Food Chain? It's All Together Better


Great Yorkshire Show 2009 Tickets Now on Sale


IAgrE Landwards 2009 Conference