Great Yorkshire Show 2009 Tickets Now on Sale
02/03/09
Great Yorkshire Show: Tuesday 14 – Thursday 16 July 2009
Tickets for the annual farming showcase, the Great Yorkshire Show go on sale on Monday 2 March, and organisers the Yorkshire Agricultural Society, are launching an initiative to give visitors an insight into what is involved in showing livestock.
Mark Elliott with Deborah Goodall, Marketing Manager, Yorkshire Agricultural Society with one of Mark's Wensleydale lambs.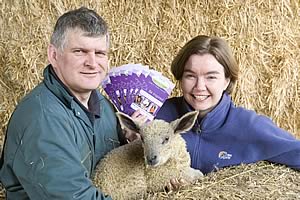 Using video footage on the show's website, the various stages from the lamb's earliest days through to the climax in the show rings will be included. Wensleydale sheep belonging to J A and F Elliott of Providence Farm, Ferrensby near Knaresborough are the focus of the footage.

With 19 breed championships under their belt, the Elliott family know better than most what's involved in catching the judge's eye, and coming home with yet another rosette to add to their collection.

The family has been successfully showing their Wensleydale sheep at every Great Yorkshire Show since the Second World War. Now their enviable reputation is in the hands of Mark who, following in the family's footsteps, is steadily collecting more and more rosettes. Milestones include taking the championship at last year's 150th Great Yorkshire Show, as well as at the 100th show. In July, the Elliotts expect to be showing in each of the six Wensleydale classes at the Great Yorkshire Show. Dates are Tuesday 14 – Thursday 16 July.

"A huge amount of work goes into showing, as anyone who has ever done it will know," says Mark. "It begins with choosing the breeding line, bringing them on, and then selecting the right animal for the ring.

He continued: "Wensleydales are a marvellous old Yorkshire breed and we've been keeping them since my father and his sister bought the first ones back in 1945. For showing, they have to have a good blue head – no pink! strong confirmation, no brown or black wool, and they need to stand well. Good confirmation is everything!"

Once Mark has made his choice for either the ewe lamb or ram lamb classes, visitors to the Great Yorkshire Show website will be invited to suggest a suitable name … with the winner receiving a Bettys Easter Selection Box as well as prizes for two runners up. Great Yorkshire Show tickets will be given to all three winners.

For further information please contact the Show office on 01423 541000 or look at our website www.greatyorkshireshow.co.uk .

IAgrE Landwards 2009 Conference


Open Farm Sunday 2009


NSA Wales and Borders Ram Sale 2009