World Wide Sires Expands Service in South West
10/10/08
Growing demand for cattle breeding company World Wide Sires' mating service has led to the expansion of its team of evaluators and the appointment of Neil Greggor as a herd evaluator in the south west.
Neil Greggor, south west World Mating Service (WMS) evaluator for World Wide Sires.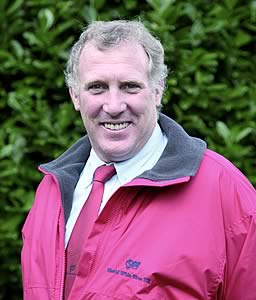 Neil has more than 20 years' experience in dairy cattle breeding as an evaluator and classifier in his native South Africa. He has been fully trained in World Wide's World Mating Service (WMS) and worked extensively with the programme in South Africa.

"Working with the many excellent herds in England will be a great challenge. In South Africa, I have used WMS in a wide range of Jersey and Holstein herds with 100 cows to 2500 cows and with varying management systems," says Neil. "There are many similarities between these and herds I'm visiting across the south and south west of England. There are many very progressive units including those that are expanding rapidly and others that are efficiently making the best use of their resources.

"WMS has a role on all these farms. I see the main benefit as taking the guesswork out of breeding and presenting herd managers with a timesaving device. I've seen numerous cases where WMS has improved the uniformity of the cows in the herd and contributed to improved production, health and welfare of cows.

"Producers also favour WMS because it's unbiased – they get good technical, cattle breeding advice but are not tied to any one company for their choice of sires."

Based near Taunton, Neil will work with World Wide's team in the south west, concentrating on WMS and ensuring producers get the best out of the service. Producers can contact Neil on 07817 232373.

Double Trouble Forbidden - Cogent's New +3 Type Merit Sire


Semex Launches Repromax Sire Index


NMR/RABDF Gold Cup - Chris May Memorial Award 2008