NMR/RABDF Chris May Memorial Award 2008
23/09/08
Chris Simmons from Folly Farm, Kingswood, Wotton under Edge, south Gloucestershire is the inaugural winner of the Chris May Memorial Award. This new award within the NMR/RABDF Gold Cup competition is awarded to the Gold Cup qualifying herd with the highest average lifetime daily yield.
Chris Simmons (2nd left) and father Lionel Simmons (right)
receive the Chris May memorial award from NMR Chairman
Philip Kirkham and RABDF President Lady Byford.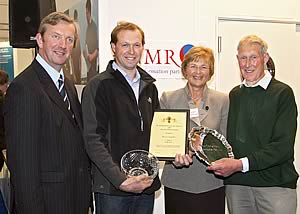 At 19.34kg/day Mr Simmons' herd had the highest lifetime daily yield (LDY) within this year's 868 herds qualifying for the Gold Cup. And he sets out to manage healthy, long lasting cows by paying great attention to detail. His 260 Holstein cows are milked three times a day which, he believes, is good for udder health and general cow well-being.

Cows on average complete six lactations at Folly Farm and the replacement rate is low at 10 to 15%. Heifers calve as near two years old as possible and average yield is currently 11,500kg.

In second place is the Higgins' Holstein herd from Wilderley Hall Farm near Shrewsbury. Bill and Margaret, with sons Andrew and Bill, run the 200-cow pedigree Holstein herd. This herd currently tops the NMR production table with 852kg of fat and protein and 12,352kg of milk at 3.89% fat and 3.01% protein on three times a day milking. The average LDY stands at 18.56kg/day.
In third place is Trevor Guley from Boundary Farm near Melksham in Wiltshire. His 160-cows achieved an average LDY of 17.76kg/day.

"This new award fully supports the remit of the NMR/RABDF Gold Cup," says NMR's Jonathan Davies. "Many producers are breeding and managing cows for efficiency and longevity and LDY is one of the best tools for highlighting herds and cows that are achieving good results in these areas."

LDY identifies cows that are achieving their milk production potential efficiently across a number of lactations. It's a simple calculation – the cow's total milk production is divided by the total number of days the cow has been alive. It will therefore be higher in herds where heifers are calving at two years old and where good production is combined with good health, fertility and longevity.

The RABDF Council supports this addition to the Gold Cup and has given it the title of the Chris May Memorial Trophy, which is in memory of the late Chris May who was a dairy farmer and keen Gold Cup enthusiast.

NMR/RABDF Gold Cup Goes to Dorset


Fullwood Give Farmers More Control at Milking Time


A Critical Time for Tenanted Dairy Holdings