New +3 Type Merit Sire at Cogent - Double Trouble Forbidden
29/09/08
Cogent Breeding has released a new exciting outcross sire; Double Trouble Forbidden to their proven Holstein sire line-up.
Daughter - Klaasje VG86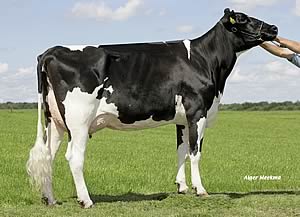 Double Trouble Forbidden is a high type son of the American sire Sandy-Valley Forbidden. Double Trouble's dam is the popular Lucky Jonkvrouw EX92 who is by Lucky Leo. Jonkvrouw EX92 was Champion Heifer at the 2002 NRM show and was Champion at the 2007 CR Delta Cow Expo. Jonkvrouw exhibits plenty of rib, broad muzzle and has super udder. Adding to this Jonkvrouw has produced 59,825 kgs in 3 lactations at 5.38% fat and 3.71% protein.
Double Trouble's sire stack is Sandy Valley Forbidden EX x EX92 Lucky Leo x VG89 Blackstar x VG88 Ned Boy x VG Sheik x EX Elevation x EX Tempo x EX92 Alert.
Double Trouble offers a UK Type Merit score of +3.18 and a Mammary score of +3.42. As expected from his pedigree Double Trouble is strong fat percent improver at 0.14% and also improves protein percent 0.02%. Double Trouble daughters are sure to have welded on udders and will be cows that have a will to milk and will be the type of cow built to last in a commercial environment.
Double Trouble is available at £19 per straw, with discounts available to Visions members.
Freephone: 0800 783 7258 to place your order.

Semex Launches Repromax Sire Index


NMR/RABDF Gold Cup - Chris May Memorial Award 2008


NMR/RABDF Gold Cup Goes to Dorset