Claas Lexion - Harvesting that's gentle on the field
29/09/06
CLAAS launched the first self-propelled combine back in 1953, but ten years ago it took combines to a completely new dimension with the LEXION. Although more than 20,000 LEXION combines have been sold to date, Claas continues to develop the range.
Claas Lexion 570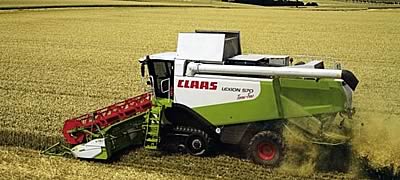 TERRA TRAC
Due to the machine's large size, spreading the weight of the machine to be more gentle on the field is an important issue. This is extremely important in helping to prevent soil compaction, which can result in a reduction in crop yield, nutrition loss and finally soil degradation including soil erosion over time. Gentle field travel will ultimately mean higher yields. As a result, CLAAS offers the TERRA TRAC that provides a large contact area, integrated axle suspension and more even weight distribution.
This system is now also available on the LEXION 570, meaning that now all LEXION models from 560 to 600 can be fitted with the TERRA TRAC. With a transport width of 3.5 metres, all machines stay within the limits of road traffic regulations. However, the LEXION 570 has an even smaller transport width of just 3.3 metres.
The TERRA TRAC system minimises ground pressure and allows you to drive smoothly over even the most difficult ground conditions, such as grain maize harvesting in the autumn. This in turn extends the combine's service life. Farmers benefit from higher harvest outputs and increased efficiency. Its non-slip ability makes TERRA TRAC better for use on hills than a four-wheel drive. The system demonstrates excellent stability even on steep slopes.
Hybrid system
The LEXION 600 is seen as the "king of combines" amongst professionals. The LEXION 580 is not only equipped with the hybrid system, but also a radial distributor, cooling system and fingertip lever, making it the highest selling combine in Europe. The LEXION 570 with the CLAAS hybrid system rounds off the series. In addition, this class of rotor machines has now been expanded to include the new LEXION 570 C model. Its reduced engine output and a grain tank volume of 9,600 litres make it an ideal machine for all farms looking to take advantage of the unbeatable benefits offered by this hybrid technology.
TELEMATICS – Performance data at a glance
The efficiency of LEXION combines is further enhanced by TELEMATICS. This system transfers machine data to the internet where it can be called up by the farmer or subcontractor. It enables you to identify potential areas for optimisation and improve the machine's settings. Even the combine's logistics, application areas and crop transport can be structured more efficiently, as TELEMATICS can always identify the current machine location, saving valuable time and money.
TELEMATICS even offers effective support for troubleshooting. In combination with the CDS 5000 service tool, it enables detailed diagnostics. By using remote diagnostics, our service technicians can obtain information regarding possible faults and pick out the correct spare parts before even seeing the machine, time is not wasted and getting your combine back on track in next to no time.

Claas Variant - New series of variable round balers


Claas Quadrant 3400 - A new dimension in large balers


The CLAAS Rollant round baler turns 30


CLAAS raises its stake in Renault Agriculture