CLAAS raises its stake in Renault Agriculture up to 80%
17/01/06
CLAAS, the leading European manufacturer of agricultural machinery, has raised its stake in French Renault Agriculture SAS a further 29 %, resulting in an 80 % ownership of the French tractor producer.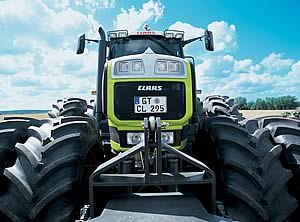 For the last two years, the co-operation between CLAAS and Renault Agriculture has been a mutual success, mainly due to the international sales development, resulting in a steep increase of tractor production in Le Mans and major modernisation projects for the site.

In February 2003, Renault signed an agreement with the German CLAAS group concerning Renault Agriculture. CLAAS then became the majority shareholder by acquiring 51 % equity stake, with Renault SAS retaining 49 %. The strategic deal was guided by the complementarities of both company's products, technologies, markets and capacity to move into new markets.

The re-organisation of the sales network and the launch of the CLAAS tractor brand resulted in a significant growth in tractor sales in the following 2 years, mainly due to the increasing sales abroad, as well as keeping the strong market position in France. 2005 in total, cross border sales rose by 22 %.

This led to an increase of production volume. The company's production unit in Le Mans has raised its production volumes by over 25 % in the last 2 years. At the same time approximately 300 new employees have been recruited within production and R&D in the last two years. Moreover, the tractor division has achieved a threefold improvement in product quality, reliability and productivity, and a strong rise of its R&D investments. The renewal of the Products portfolio will be maintained at an increasingly rapid rate.

The CLAAS tractor division received recognition for its rising standards when in November 2005 the new ARES tractor was awarded "The Golden Tractor - Best design of the year", and the NECTIS tractor was elected "Tractor of the Year- Best specialised tractor" by a jury of selected European agricultural journalists. These prices reflect the positive development of the Claas tractor unit, expected to further enhance its success in the coming year.

At the same time, the entire harvest machinery business has benefited from the successful integration of tractor business. For example, 2004 was the first year that CLAAS became market leader for combine harvesters in France following the takeover of the CRA dealer network, and in 2005 CLAAS has strengthened this leading position following the successful introduction of CLAAS tractors in France.

New additions to the CLAAS tractor range


New Claas Lexion 600 takes combining to new output levels


Three new additions to the CLAAS 2006 combine line-up