The CLAAS Rollant round baler turns 30
30/03/06
It all began with hay: The first products to be made by the CLAAS brothers' company in Harsewinkel were hay balers which used a new knotting device so that bales of hay could be automatically bound for transport back to the barn.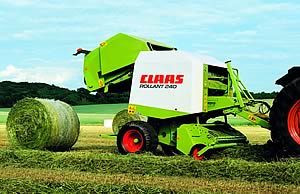 In 1921, August CLAAS obtained his first patent for a

new knotter design that enabled more reliable binding, and it was this knotter that became the company logo.

Subsequent baling developments ranged from pickup balers with feeder tines to the MARKANT high-pressure balers, clear proof of the long baler tradition at CLAAS.

In 1976 - exactly 30 years ago - CLAAS introduced the ROLLANT round baler. Unlike other models, the baling chamber used robust steel rollers, which for baling silage proved to be a distinct advantage, as has been borne out by the ROLLANT's market leadership among fixed chamber balers.

Numerous innovations - spiral chamber, net binding, ROTO CUT chopping system, MPS baling chamber, and so on - have been integrated into the ROLLANT over the past 30 years. In addition, the development of the UNIWRAP bale/wrapper combination has resulted in considerable demand for those wanting to make baling and wrapping a one man operation.

At the end of the Nineties, the company invested heavily in its baler factory in Metz, where all CLAAS balers are developed and manufactured. This investment provides CLAAS with ultra modern production facilities and optimum production processes. In the anniversary year of 2006, the 80,000th ROLLANT round baler will leave the assembly line in Metz, and CLAAS sales partners will be organizing numerous campaigns to mark the anniversary.

CLAAS raises its stake in Renault Agriculture


New additions to the CLAAS tractor range


New Claas Lexion 600 takes combining to new output levels