Claas Quadrant 3400 - A new dimension in large balers
23/08/06
8 years after the launch of the legendary QUADRANT 1200 and almost 10,000 square balers later, CLAAS has now created a new dimension in large balers.
Claas Quadrant 3400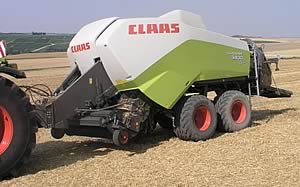 The QUADRANT 3400's completely new design satisfies the demands of farmers and straw dealers alike: higher baling densities, increased power and maximum throughput. Each and every component on the QUADRANT 3400 has been designed to provide speed and maximum throughput: It generates approximately 40% more throughput than an equivalent QUADRANT 2200.
With the QUADRANT 3400, bales can now be created in Euro format (100 cm x 120 cm). Prior to development, these precise bale dimensions were often requested by European straw dealers to ensure the optimum loading of different HGVs and standard dimensions.
The pickup offers a working width of 2.35 m and adjusts perfectly to the ground. Even rough swaths are gathered up quickly and cleanly. In addition, the QUADRANT 3400 is fitted with CLAAS' patented front-mounted dual roller crop press, which has already demonstrated its ability in other CLAAS balers. It presses the crop perfectly, accelerates the crop flow and actively transfers it to the rotor. The small distance between the pickup and the rotor ensures efficient interaction between both components. Peak loads of more than 60 tonnes per hour can be processed with ease, even if working with heavy swaths of wet silage.
Bale silage has become firmly accepted amongst grassland farmers. CLAAS' switchable antechamber (Intelligent Feeding System) offers a baler that can produce easy to wrap silage bales under any swath conditions. As a result, the QUADRANT 3400 can complete significantly more operating hours each year.

The CLAAS Rollant round baler turns 30


CLAAS raises its stake in Renault Agriculture


New additions to the CLAAS tractor range