New additions make Massey Ferguson MF 8400 flagship really fly
03/11/05
MF 8400 Series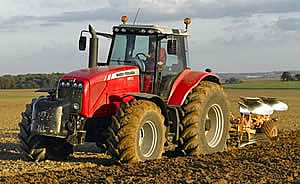 • European Tractor of the Year 2005 enhanced still further

• New Quadlink Front Axle Suspension

• 50 km/hr Dyna-VT transmission

• AutoGuide Steering Option

• New Datatronic III option provides ISOBUS compatibility and rear video camera display.

• Fingertip Spool-Valve control

• New common rail, four-valve Sisu Diesel engines meet Tier III emission regulations

• Industry leading cab quietness - 71 dB(A)
A range of outstanding new features further boost the power, performance and versatility of Massey Ferguson's flagship MF 8400 Series.
All models feature fingertip hydraulic controls and can now be equipped with new front suspension and 50km/hr top speed Dyna-VT transmission, AutoGuide steering and ISOBUS compatibility. These are genuine output-enhancing features to boost output during haulage duties and in the field.
Named 'European Tractor of the Year 2005' immediately after its launch, the MF 8400 tractors are now taking another major step forward in terms of offering technology to further boost output and efficiency.
High power and torque from the new Sisu Diesel engines, combined with the availability of 50K Dyna-VT continuously variable transmissions and the Datatronic III automatic functions allows the MF 8400 Series to offer large-scale farms and contractors uncompromising performance. The addition of front suspension and 50km/hr top speed make these tractors outstanding heavy-haulers, offering unrivalled features for safe and economical roadwork.
New MF 8400 tractor features on all four models:
• Dyna-VT with 50km/hr option. The continuously variable transmission improves the efficiency and saves fuel by allowing high speeds to be achieved and maintained at low engine rpm. (50km/hr top speed is subject to local market legislation)
• Proven and rugged QuadLink suspension now allows the tractors to safely maintain high (50km/hr) road speeds, as well as improve comfort and traction
• Fingertip hydraulic controls set in operator armrest console. Four standard spool valves have electronic control with the ability to set and memorise flow and timings. Fifth spool is an option
• New common rail, four-valve Sisu Diesel engines meet all the emission regulations and provide high power and torque, reliably and with exceptional economy
• AutoGuide steering option provides automatic steering which prevents overlaps, saving fuel, time while boosting outputs
• Datatronic III embraces full ISOBUS compatibility. 2006 production will include the option of a full connection kit for all ISOBUS compatible implements.
Datatronic III allows operators to make numerous settings and provides automatic functions including setting the flow and timing of electronic spool valves, headland management sequence memory plus Dual-Control and Trailed Implement control set-up and operation. There is also now the option of a rear video camera display on the GTA console screen.
• GTA 100 software fitted as standard with Datatronic III allows important operating data to be simply downloaded to PC. Low cost GTA 200 software option simplifies record keeping and traceability information gathering
High speed with economy, comfort and control
MF's well-proven Dyna-VT now combined with a 50km/hr top speed is a winning formula for those looking for economical transport and top haulage performance. The huge benefit of this continuously variable transmission is that operators can select any combination of engine rpm and forward speed.
Now, with a top speed of 50km/hr, the system's benefits are further enhanced by providing even higher fuel savings for transport and haulage. In manual (lever) operation pushing the lever forward selects the highest ratio and when top speed is attained it's then possible to throttle back to the most efficient engine rpm.
This not only saves fuel, but also reduces wear and tear on the engine, because it is not required to work so hard. Operators also benefit from less noise in the cab - on top of the industry-leading quietness of just 71dB(A).
Dyna-VT features:
Supervisor and SV1/SV2
The 'Supervisor', rotary knob on the right-hand console adjusts the percentage of engine speed drop (between 5% to 40%) that is permitted before the DynaVT will automatically reduce the transmission ratio. Used in conjunction with SV1 and SV2, which set a specified travel speed, the tractor will then operate at maximum output as the load on the tractor changes.
The Dyna-VT's special and simple 'operating modes' are unchanged. Switching to Pedal Mode allows operators to select one of three automatic settings. In this set-up the operator uses the pedal to alter the speed of the tractor, and the tractor adjusts the engine speed and transmission accordingly.
• Power: Ideal for hauling heavy trailers. The transmission in this setting employs full power with the system maintaining maximum engine output by adjusting forward speed in response to changes in load
• ECO: The perfect setting for hauling empty trailers and light road and fieldwork. The system is set for maximum economy, with the transmission increasing forward speed at lower engine revs.

• Forager (PTO): Engine speed is set by the speed control and remains constant regardless of forward speed. The hand lever and pedal alter forward speed for the optimum working quality, or to match swath conditions when baling or foraging.
QuadLink suspension for speed, safety and comfort
By eliminating the fore and aft 'pitching' that can build up when travelling at speed, the new standard QuadLink front suspension allows 50km/hr road speeds to be attained safely and comfortably. Suspension also significantly improves comfort in higher speed cultivation work. This well proven system provides a big increases in operator comfort and productivity as well as increasing traction by up to 20%.
The simple compact, four-link system, uses a single hydraulic ram, accumulators and electronic control to maintain a constant suspension height regardless of load, axle oscillation or turning angle. It is also possible to deactivate the system at the touch of a button. QuadLink also does not impact on the turning circle or the ability to fit a front-linkage and mounted equipment.
Fingertip spool-valve control
Toggle levers, mounted conveniently at the front of the operator's armrest control, now provide fingertip operation of four spool valves. Electronic control of the valves allows flow from each to be set and memorised at the press of a button.
For tractors with the optional Datatronic III system both flow and timing are set and memorised via the GTA console screen. Furthermore, these settings can also be included in the headland management sequence memory. This helps speed-up turn-arounds and maintain accuracy of implement settings, each and every time. A fifth, lever-operated, spool valve is an option flow and timing settings can also be memorised using the Datatronic III screen.
All the MF 8400 Series tractors are fitted with all-new Sisu Diesel engines, which comply with the latest emission regulations. These all feature common rail fuel injection, and four-valves per cylinder.
ISO Rated hp ISO Max hp Max Torque (Nm)
MF 8480 290 315 1280
MF 8470 260 290 1195
MF 8460 235 260 1071
MF 8450 215 235 970
All at 1200 - 1500 revs.
The common rail injection system uses electronic control to regulate and optimise the injection pressure for all operating conditions and loads. Electronic control also allows the fuel injection to be phased in up to five different stages on a single stroke. By analysing the engine's demand more than 100 times every second, the electronic control unit can then regulate the fuel quantity and injection timing to precisely suit the load. The phasing system is key to reducing emissions while maintaining good fuel economy.
All of the new engines use four valves/cylinder. This makes it possible to fit the combustion chamber centrally in the top of the piston. This is fed by a vertical injector in the middle, the best position for optimum fuel combustion. Doubling up the number of inlet and exhaust valves improves gas flow and reduces 'pumping' losses. It also maximises the fuel and air mix, which again lowers emissions and improves fuel economy.
Ultimate control and communication with Datatronic III with ISOBUS Compatibility
The new GTA Console with Datatronic III console is now compatible with ISOBUS - the industry tractor/implement communication standard. This brings an end to cluttered cabs by allowing the tractor's own GTA screen and console to control and monitor implements designed to the same standard.
ISOBUS is the equivalent of the standard operating system for the agricultural world. It allows implement manufacturers' software to be displayed and controlled on the GTA screen. This saves money, because there is no need for an additional terminal and also means operators need to master the working of just one controller.
Datatronic III with its new GTA console is a genuine output-enhancing option. As well as monitoring and controlling a range of tractor functions the system, with standard GTA 100 Communicator software allows much of this data to be downloaded and analysed on an office PC. With the low-cost addition of the GTA 200 Record Keeping software the system builds into a powerful field and machinery management tool, allowing field data and operations to be quickly downloaded for traceability records as well as updating other farm management programs.

With GTA100 Communicator software the GTA Console logs machine and field data. This can then be transferred by SD card into the software on the office PC to allow machine use and job data to be viewed and exported for use by third-party farm management programs
The next step, GTA200 Record Keeping, allows machine performance data to be allocated to a specific job or field to produce a range of reports. This means important crop traceability information can be collated as well as producing field and machine records and printable reports.
manager Provides Total Peace of Mind
By fixing up-front the cost of all routine maintenance and repair costs, users can precisely budget the cost/hr of the tractor over a set period. The manager contract offers industry-leading cover for up to five years or 6,000hr.
During this period there will be no unexpected repairs to cope with, allowing farming and contracting professionals to precisely budget the cost of machinery operations. Moreover, routine servicing provides an opportunity for preventative maintenance to minimise the risk of breakdowns in busy periods.
A full service history, carried out by MF dealerships, will maintain the machine to the highest standards, resulting in a higher residual value. This reduces depreciation, further bringing down the whole-life operating costs.

New features for MF 6400 series tractors


MF 7400 Tractors - Dyna-VT and New Panoramic cab


MF Combines cut harvesting costs. New features for 2006 harvest