MF 7400 Tractors - Dyna-VT and New Panoramic cab
25/10/05
MF 7490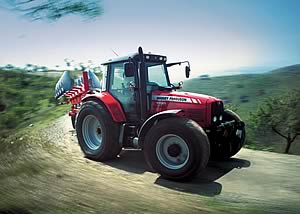 · New Panoramic Cab now available on MF 7400 in addition to MF 6400, a total of 10 machines from 90 - 145 Hp (ISO).

· Panoramic cab - ultimate visibility with comfort and control for both specialist and general purpose work.

· 140° unimpeded view of side, front and rear-mounted implements.

· Enables choice of transmission - Dyna-6 or Dyna-VT - with Panoramic cab.

· Dyna-VT plus Panoramic cab - the ultimate combination for municipal work and handling operations
Massey Ferguson's MF 7400 Dyna-VT continuously variable transmission, combined with the unimpeded side view offered by the new MF 7400 Panoramic cab, offer the ultimate combination for municipal tractor work. These new tractors provide all the features required by specialist operators, while also retaining the versatility needed for general-purpose work.
There are three new MF 7400 Panoramic models, from 120hp to 145hp (ISO), available with the specialist cab for roadside maintenance and other municipal work. But the tractors remain fully specified to meet the needs of the most demanding agricultural users, and provide a winter income-earning opportunity for contractors. These new models join the seven models from 90hp to 145hp in the MF 6400 Series that are already available with the Panoramic cab:
MF 7400 available with Panoramic cab:

| | | | | |
| --- | --- | --- | --- | --- |
| Model | Engine | Capacity | Hp (ISO)* | Hp With boost |
| MF 7465 | 6cyl Perkins | 6.0 litres | 120 | 130 |
| MF 7475 | 6cyl Perkins | 6.0 litres | 135 | 145 |
| MF 7480 | 6cyl Perkins | 6.0 litres | 145 | 155 |

* ISO TR 14396
MF 6400 available with Panoramic cab:
| | | | | |
| --- | --- | --- | --- | --- |
| Model | Engine* | Capacity | Hp (ISO)** | Hp With boost |
| MF 6445 | 4cyl, turbo | 4.4 litres | 90 | - |
| MF 6455 | 4cyl, turbo | 4.4 litres | 100 | - |
| MF 6460 | 4cyl, turbo, IC | 4.4 litres | 115 | 125 |
| MF 6470 | 4cyl, turbo, IC | 4.4 litres | 125 | 135 |
| MF 6465 | 6cyl, turbo, IC | 6.0 litres | 120 | 130 |
| MF 6475 | 6cyl, turbo, IC | 6.0 litres | 135 | 145 |
| MF 6480 | 6cyl, turbo, IC | 6.0 litres | 145 | 155 |

* IC = Intercooled; ** ISO TR 14396
The MF 7400 models feature:
· Panoramic five-pillar cab fitted with one-piece 8mm thick polycarbonate screen on the right-hand side. This combines ultimate visibility with maximum comfort and control
· Ultimate control from Dyna-VT transmission, offering infinitely variable speeds and automatic functions
· Unique left-hand PowerControl lever offers smooth power shuttling and control of the ground speed
· Wide range of options including Dual Stage suspended cab, QuadLink front axle suspension, the Visio roof plus a host of others performance enhancing features
· Standard facilities to fit wide range of beacons and 'Tri-flash' light
· Datatronic III option with GTA Console and software records and downloads useful machinery management data. The system also automates many functions to ease the load on the operator
Ultimate vision
MF's Panoramic cab provides operators with ultimate vision to the right-hand side of the tractor. There is no 'B-post'; instead a single piece of curved 8mm thick polycarbonate offers a 140° unimpeded view of side-, front- and rear-mounted implements.
This polycarbonate screen, with anti-scratch treatment for durability, is extremely tough and protects operators from flying debris. It has its own wash/wipe unit and a pull-down sun-visor, which folds completely clear of the screen when not required.
The Visio roof option further increases visibility to the front and above, and is particularly useful for loader operations. Moreover, unlike other makes, the Visio roof does not compromise cab comfort. It is purpose-built for the job and incorporates full air-conditioning and ventilation.
A range of additional worklamps, as well as an extra foglamp and reversing light, enhance the external lighting for additional clarity and safety when working at night. A powerful worklamp is fitted to an extendable arm on the right-hand side and can be adjusted to illuminate the work. A further option is factory-fitted wiring and brackets for a roof-mounted 'Tri-Flash' hazard warning triangle.
Dyna-VT for infinitely variable speed control
Massey Ferguson's Dyna-VT continuously variable transmission is the perfect partner for the Panoramic cab, offering infinitely variable speeds between 0-40km/hr, and in both directions! There is no better combination of transmission and cab for efficient municipal applications, with the Dyna-VT enabling operators to set the exact engine speed for the implement and then adjust the forward speed to match precisely the work and conditions.
Dyna-VT controls combine sophistication with simplicity and ease of use. A small armrest-mounted lever or the left-hand Power Control lever provide both speed changes and shuttling for the Dyna-VT transmission. Switching to foot pedal operation offers a range of 'modes' for ultimate control to boost productivity.
'Forager'(PTO) mode, for example, maintains the set engine rpm for optimum PTO performance. Engine rpm remains constant, regardless of forward speed, with the foot pedal or lever used to vary only forward speed. This can be used with the SV1 and SV2 speed controls, which allow operators to pre-set and maintain a maximum speed. For hedgecutting, for example, the SV1 can be set to a maximum 10km/hr, providing really fine control because the full movement of the pedal or lever now changes the speed between just 0-10km/hr.
In Economy mode the ratio changes are made at 1,800rpm, for improved economy in lighter duties. In Power mode the tractor responds like an automatic car, with top speed at maximum engine rpm. This provides full power for pulling heavy loads etc.
A 'Supervisor' dial sets the engine speed and CVT for optimum output to match every working condition. The dial allows operators to adjust how quickly the transmission reacts to changes in engine rpm.
Superb cab comfort and control
All the comfort and features MF operators now expect are retained in the MF 7400 Panoramic cab, which keeps noise levels to within 72 dB(A). The standard air-con system is further enhanced by optional climate control. With the standard high-spec seat swivelling 20° to the left and right, the operator is always working in the most comfortable position. Seat options include pneumatic controls, heating and 'active' carbon covering for hot climates.
Subtle changes to the side console improve visibility while ensuring additional controls and switches are within easy reach. All controls are grouped in by function, either on the console or the operator's armrest.
The Transmission Controller works in the background automating repetitive tasks such as engaging the diff-locks and four-wheel drive. The optional Integrated Tractor Control System provides further automation, information and control. This includes wheelslip monitoring and adjustment as well as a 'mini' headland management system. For ultimate automated operation, control and information gathering is the new Datatronic III with GTA Console and software (see description below).
Electronic control of the Perkins six-cylinder engines, provides additional flexibility. Two rotary knobs, mounted conveniently on the side console, for the Engine Speed Management adjust, pre-set and memorise two rpm settings that are selected at the touch of a button. One can be set for work, for example, while the other could be set for shuttling.
Suspension for extra comfort
Optional Dual Stage cab suspension provides extra cab comfort. This pneumatically-operated unit offers two firmness settings, changed with the flick of a switch, to suit the field or road working conditions.
For the ultimate in comfort and improved road holding is the further option of QuadLink front axle suspension. This compact, simple design - which can be switched on or off by the operator to suit the work - maintains a constant axle height regardless of load. This results in much smoother ride and comfort for the operator as well as increased traction in difficult conditions, helping to lift productivity.
Automated operation and job recording in one package
Datatronic III and the GTA Console and screen option provides a host of functions to automate the operation of complex equipment. At the same time it gathers a wealth of useful machinery management information that is quickly and easily downloaded via an SD card onto MF's unique software on an office PC.
GTA 100 Communicator, which is standard, logs machine and work data. This can then be transferred by SD card into the software on the office PC to allow machine operations and job data to be viewed and exported for use by third-party management programs.
A further low-cost option is GTA 200 Record Keeping, which allows machine performance data to be allocated to a specific job or customer and produces a range of reports. For contractors this simplifies billing and for farmers and agricultural customers it means important crop traceability information can be collated quickly and easily. At the same time it will produce detailed job, field and machine records in printable reports.

New features for MF 6400 series tractors


MF Combines cut harvesting costs. New features for 2006 harvest