New features for MF 6400 series tractors
26/10/05
MF 6400 Series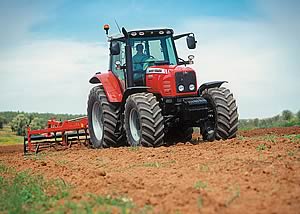 • Outstanding Dyna-6 Transmission with 50 km/hr option when fitted with Quadlink Front Axle Suspension
• Superb Power to Weight for Arable applications and formidable hauler
• New Tier III SISU Common Rail Engines
• New Datatronic III option provides ISOBUS compatibility and rear video camera display
• Option of Fingertip armrest control of up to four electronic spool valves with flow memory
• Industry leading cab quietness - 71 dB(A)
Massey Ferguson is further increasing the performance and versatility of its two most powerful draft tractors at the top of the MF 6400 Series. The MF 6499 and MF 6497 now feature the outstanding Dyna-6 transmission, with a 50km/hr Eco as an option, new SISU Diesel common rail engines plus fingertip electronic spool control and new Datatronic III control options.
These powerful tractors' superb power-to-weight ratios are already valued highly by users. At 215hp and 200hp, respectively, the MF 6499 and MF 6497 not only provide the power for heavy draft applications, but also a light footprint for drilling and top work.
Dyna-6 further extends versatility, now making the tractors ideal for economical, heavy haulage and trailer work. The AutoDrive option, which enables automatic up and down shifting, is straightforward to use. The 50k/hr top speed (dependant on local market legislation) reduces journey times and saves fuel by allowing top speed to be attained at just 2000 rpm. In the field the transmission provides six powershift changes in every gear. No other tractor in this hp sector offers the same level of specification.
The MF 6497 and MF 6499 are true all rounders, the perfect tractors for the field or road. Although equipped to a high level of specification as standard, including the quietest cab at 71dB(A) in its class, users can also choose from a range of intelligent options to boost comfort, productivity and control.
The choice of control options range from the Integrated Tractor Control System to full Datatronic III, which comes with easy to use GTA software, allowing operators to download tractor and field information to the office PC. Moreover, users can also select the precise tractor specification to match their primary tasks with a range of comfort and performance 'Packs'.
New MF 6497 and MF 6499 models now feature:
· Dyna-6 Speedmatching Transmission. This versatile 24/24-speed unit provides six, powershift ratios in every gear
· Dyna-6 Transmission AutoDrive option provides automatic upshifting depending on engine revs and automatic downshifting according to load.
· 50km/hr top speed option (dependant on local market legislation), achieved at an Eco engine speed of 2,000 rpm. This is available with the existing QuadLink front suspension option
· All new Tier 3, 7.4 litre Sisu Diesel engines with common rail injection and four valves/cylinder
· 100 l/min Twin flow hydraulics in base with the option of closed centre load sensed hydraulics (110 l.min) as an option
· Park Lock option
· Option of Fingertip armrest control of up to four electronic spool valves with flow memory (plus timing if set with Datatronic III option)
· GTA Console control screen with Datatronic III, GTA Communicator software, plus low-cost optional upgrade of Record Keeping software
· New Datatronic III option provides ISOBUS compatibility and rear video camera display
· manager maintenance and repair contract provides ultimate peace of mind, reduces risk of downtime and improves residual value
Efficient and easy-to-use Dyna-6 transmission
For the first time the highly efficient Dyna-6 transmission is now available for the
MF 6497 and MF 6499. Offering six powershift changes in four speeds it provides a total of 24F/24R speeds, plus the option of a top speed of 50km/hr at just 2000 rpm.
After starting the tractor with Dyna-6 there is no further need to use the clutch. Lift the left-hand Power Control lever and push it forwards or backwards and the tractor pulls away in either direction.
Six speeds in each gear can be changed, under load and without the clutch, with the Power Control lever or the T-shaped shift lever mounted on the armrest. Gear ratios can also be selected without the clutch by simply pressing a button on the armrest-mounted lever and moving it backwards and forwards.
When changing between gears (one to four) the standard specification 'Speedmatching' function selects the most appropriate Dyna-6 ratio to match the speed. Operators can adjust the rate of engagement of forward/reverse shuttle selection with a rotary knob. This can be set for optimum comfort and efficiency whether using a loader or turning at the headland with large mounted machines.
Further automation is provided by the AutoDrive option, which offers a combination of automatic functions which are unique to Massey Ferguson.
The AutoDrive controller can be set for Manual operation, or Speedmatching or AutoDrive in the Field or Road modes.
In the Speedmatching modes the appropriate Dynashift ratio is selected automatically when making a range change. In the 'Road' mode holding the transmission lever forward or backwards will change Dynashift ratios and range gears.
In the AutoDrive 'Road' sector the system will shift up through all Dyna-6 speeds as well as change the gears automatically. Operators can select the engine speed - between 1,600rpm and 2,200rpm - at which the AutoDrive will change up automatically. The transmission will also downshift automatically according to the load. It's as simple as driving an automatic car - all the operator needs to do is vary the throttle to match conditions and the transmission changes up and down automatically.
Field mode provides the same features, but automatically changes only the six Dynashift steps in each gear. It is still possible, however, to set engine rpm (in the same speed range) at which up-shifts are made. As in the 'Road' mode the transmission will downshift automatically according to the load. This allows users to set the automatic system precisely to match every job and operating condition.
Fast and economical road work in safety and comfort
A new 50km/hr top speed option for the Dyna-6 transmission on these tractors is now available when the QuadLink front suspension option is chosen (depending on local market legislation).
Formidable Haulers
The availability of 50km/hr road speed and AutoDrive on the Dyna-6 transmission coupled with high engine power makes the tractors formidable heavy haulers. Operators need only to select Road mode and then the transmission will change automatically up and down the gears and Dyna-6 ratios to match the load. It's really that simple. Moreover, operators have complete control of the changes by being able to use the AutoDrive dial to adjust the engine rpm (between 1,600rpm and 2,200rpm) at which the upshifts are made.
The choice of 24 speeds and 6 Dynashift ratios ensures the correct ratio is selected for both output and fuel economy. The 50K option enables 50K at reduced engine revs - 2,000 rpm - which saves fuel and reduces noise at high speed
.
QuadLink suspension option not only allows the top speed to be reached comfortably, but also with complete safety. The system eliminates the 'pitching' that can build up on the road with mounted implements at speed. In the field, the system is also shown to improve traction by up to 20%.
New SISU Comon Rail Diesel engines
The MF 6497 and MF 6499 are both now fitted with brand new Tier III 7.4 litre Sisu Diesel engines that feature common rail fuel injection, four valves/cylinder and electronic control and meet stringent emission regulations while maintaining excellent fuel economy.
Both are turbocharged and intercooled with full electronic control for ultimate efficiency, economy and power control.
ISO Rated Hp ISO Boosted Hp Max Torque
MF 6497 200 215 883 Nm
MF 6499 215 230 926 Nm
The common rail injection system uses an Electronic Control Unit to regulate and optimise the injection pressure to match every individual operating condition and load.
By analysing the engine's demand more than 100 times every second, the system regulates the fuel quantity and injection timing to precisely suit the load. Injection is phased in up to five stages, which is key to reducing emissions while maintaining good fuel economy.
All the new engines use four valves/cylinder, which allows the piston's combustion chamber to be set centrally. This is fed by a vertical injector in the middle, which is the best position for optimum fuel combustion. Doubling up the number of inlet and exhaust valves improves gas flow and reduces 'pumping' losses. It also maximises the fuel and air mix, which again lowers emissions and improves fuel economy.
Spool control at operators' fingertips
Four small toggle switches at the front of the armrest offer the option of fingertip control and the ability to memorise the flow from four electronically-controlled spool valves. Five spool valves are available.
The easy switch operation and memory helps to speed up headland turns and provides precise control of sophisticated machinery. This helps boost outputs by reducing the time and operator effort when turning.
On tractors fitted with the Datatronic III option spool timing as well as flow are set and memorised via the GTA console screen. Moreover, these settings can also be included in the headland management sequence memory. This helps speeds headland turns and maintains accuracy of implement settings, each and every time.
Unrivalled control choice
For decades Massey Ferguson has led the field in tractor electronic control and monitoring. However the company acknowledges that all users have different requirements, so provides owners with a choice of system to best suit their needs.
Standard specification on the MF 6497 and MF 6499 is high, offering electronic automatic control for various routine functions for headland turns that increase productivity. This includes automatic engagement of PTO, four-wheel drive and differential locks.
The Integrated Tractor Control System (ITCS) entry-level option builds on the base spec and, using a small joystick and touch panel, provides industry-leading field monitoring and tractor management. ITCS includes radar for measuring wheelslip. This is vital when setting tractors to work most economically, because studies show that draft tractors work best at 8% to 12% wheelslip, and without radar this is impossible to check or set. Once set the system will also monitor fuel usage.
The ITCS digital display can also be used to set spool valves, hydraulic flow (prioritising between the linkage and external valves) and provide basic headland management control.
Ultimate control and communication with Datatronic III.
New Datatronic III option provides ISOBUS compatibility and rear video camera display
The new Datatronic III console is now available for the MF 6497 and MF 6499. It is possible to specify ISOBUS compatibility and the provision for video input and full colour display from a rear video camera. ISOBUS is the industry tractor/implement communication standard, it brings an end to cluttered cabs by allowing the tractor's own GTA screen and console to control and monitor implements designed to the same standard.
ISOBUS is similar to the 'Windows' system for the agricultural world. It allows implement manufacturers' software to be displayed and controlled on the GTA screen. This saves money, because there is no need for an additional terminal and also means operators have to master the working of just one controller.
Datatronic III with its new GTA Console and in-cab screen is a genuine output-enhancing option that offers ultimate tractor control. The full-colour 140mm TFT screen provides simple control within six application categories from a straightforward main menu.
The screen displays and controls tractor settings and parameters and is also used to program up to 35 headland management operations to save time when turning. Flow and timing of the previously mentioned electronic valves are set on screen, and memories can be set up to store the individual settings of up to six different implements.
Datatronic III also sets up Massey Ferguson's unique 'Dual Control' and 'Trailed Implement Control' system. These important functions greatly simplify and improve accuracy when operating semi-mounted and trailed equipment as well as front and rear combinations.
Datatronic III also comes with GTA PC software that builds into a powerful management suite of programs. GTA 100 Communicator software comes as standard, and allows data to be downloaded, via an SD card, and analysed on an office PC. The low-cost option of GTA 200 Record Keeping software adds powerful field and machinery management functions, allowing field data and operations to be quickly downloaded for traceability records and well as updating other farm management programs.
manager provides users with total peace of mind

By fixing the cost of all routine maintenance and repair costs, up-front, users can precisely budget the cost/hr of the tractor over a set period. The 'manager' contract offers industry-leading cover for up to five years or 6,000hr.
During this period there will be no unexpected repairs to pay for, which allows farming and contracting professionals to precisely budget the cost of machinery operations. Moreover, routine servicing provides an opportunity for preventative maintenance to minimise the risk of breakdowns in busy periods.
A full service history, carried out by MF dealerships, will maintain the machine to the highest standards, resulting in a higher residual value. This reduces depreciation, further bringing down the whole-life operating costs.


MF 7400 Tractors - Dyna-VT and New Panoramic cab


MF Combines cut harvesting costs. New features for 2006 harvest