MF Combines cut harvesting costs.  New features for 2006 harvest
27/09/05
MF ACTIVA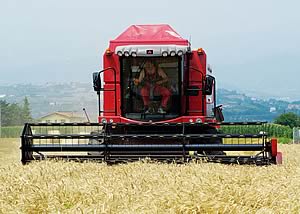 Massey Ferguson Activa and Beta combines have been providing robust and reliable performance throughout harvest in 17 different countries this season. The practical design of these machines is finding favour among users that wish to secure crop yield and quality by owning their own machine, but without the cost of larger, often more complex, combines.
New features for 2006, including the renowned Powerflow table for Betas, will further improve capacity and performance.
"The seven models in the two ranges are being welcomed by small to medium mixed farms, as well as contractors and large estates, that are looking for a new cost-effective combine. These models offer well-proven technology that is easy to set-up, operate and maintain. Crucially they have rock-solid residual values, thanks to their reliability and MF reputation. This helps to keep down the overall cost of ownership, making them an attractive alternative to a larger, used machine," explains Adam Sherriff, AGCO's General Product Marketing Manager - Powered Harvesting.

The utility Activa range comprises the MF 7244, MF 7245 and MF 7246, while the premium Beta MF 7260, MF 7270 have a higher level of specification, as well as two machines equipped with Autolevel systems as standard. This wide range of five- and six straw-walker models, along with other options, is in line with Massey Ferguson's tractor policy of providing customers with a wide choice specifications that can be further tailored to precisely suit users' requirements.
Numerous clever design features come together on these machines to make them strong and practical. For example, the engagement mechanism for the threshing system, table, unloading auger and straw chopper are all identical. This uses a small hydraulic ram to push a pulley over-centre to engage the drive, which is then held in place by simple spring pressure. This is easily set, checked and maintained. No hydraulic pressure means no leaks and long, dependable life.
Galvanising up to 70% of the components, including the closed-bottom straw-walkers further enhances longevity. Most of the assemblies are also pre-painted before assembly, which also prevents corrosion.
Maintenance wise many components are bolted onto welded frames, such as plates on the Freeflow table, which are quick and easy to replace if necessary. Elsewhere, augers have double-thick flighting in the areas that do the most work, which means they last twice as long. Also elevator bottoms are bolted into place. This means only these components need replacing, rather than having to renew the entire assembly, as on other machines. Build quality is also typified by strengthening with thicker metal on the front of the straw walkers, which take the initial high loads of straw. This all adds up to a strong, dependable machine that provides reliability in the field combined with ease of maintenance. Massey Ferguson combines are built to last.
Activa and Beta specifications
Range

Model

Walkers

Engine hp

Grain tank capacity

(Litres)

Activa

MF 7244

5

220

7,000

MF 7245

5

255

7,000

MF 7246

6

255

7,500

Beta

MF 7260

5

275

9,000

MF 7260 AL-4

5

275

8,200

MF 7270

6

305

9,000

MF 7270 AL-4

6

305

8,200

New features for Harvest 2006

Massey Ferguson is further improving the design of the Activa and Beta with a series of new features for harvest 2006:
· All Beta models are now available with MF's renowned Powerflow cutting table. This unique MF design provides up to 50% faster performance in some crops compared with conventional cutterbars. In difficult conditions Powerflow comes into its own and is unmatched in its flexibility, with no lengthy adjustments required to handle any crop type or condition.
Powerflow tables up to 6.7m wide on the MF 7270 are available.
· Climate control is now included on all Beta models. This provides the perfect operator environment inside the cab, keeping staff comfortable throughout long working days, and boosting overall efficiency.
· MF 7260 and MF 7270 Beta models now have metal grain tank covers, which can be opened from the cab, to increase capacity in the field. However, they are shut quickly and easily if encountering overhead obstructions or dangers, for transport or if the weather suddenly turns.
· Cab steps on both Beta and Activa machines now provide a narrower road width, but still fold forwards and out of the way. There is still also breakaway protection should the steps hit an obstacle in the field.
· The step changes and new rims now allow combines to travel on roads with 650/75 R32 tyres, mounted at 3.25m width on five-walker models and 3.5m on six-walker machines.
MF Beta - High capacity in all crops and conditions
The four models in the Beta range deliver top performance in all types of combinable crops and are the ideal machines for medium to large-scale operators and contractors.
Latest electronically controlled Sisu engines provide optimum power for harvesting performance, producing 275hp in the MF 7260-AL-4 and 305hp in the MF 7270 and MF 7270 AL-4 machines. All models have a four-speed hydrostatic transmission allowing operators to always set the optimum speed for maximum harvesting flexibility.
The Autolevel versions of the Beta combines work on the same principles as the larger MF Cerea combines. Both models come with four-wheel drive as standard and, by using rotating final drives, are able to keep the machine horizontal across slopes of up to 20% and up and down hills of to 8%.
The standard Beta 'Super-comfort XLR' cab comes with air conditioning, heating, air suspended seat, and steering column that is adjustable in three dimensions. There's even a fridge. Climate Control will be available for next season.
The superb, uncluttered design offers a clear full view of the table. All controls fall easily to hand, thanks to the ergonomic layout of the levers and controls on the right-side armrest. Further forward is the multi-function lever, which provides comfortable operation of the main functions.
The full range of essential harvesting information and shaft-speeds are monitored and displayed on the 'Agritronic plus' display. This helps operators ensure the machine is working at optimum settings to maximise harvesting potential.
The standard Freeflow tables - from 5.4m to 6.6m wide - offer superb cutting ability from the self-cleaning and high-speed Schumacher knife unit. They are also equipped with automatic cutting height control and Autolevel, which allows the table to follow contours of up to 8%. All Beta models are now also available with the option of MF's renowned Powerflow cutting table. This unique MF design provides up to 50% faster performance in some crops compared with conventional cutterbars, and is particularly useful for work in rape and in laid and difficult to cut crops.
A Powerfeed Roller, between the table and the main crop elevator, evens out crop flow and saves power. The Roller presents a more uniform feed to the threshing unit by distributing the crop across the full width of the elevator to help maximise threshing unit performance.
Threshing is by the well-proven 600mm diameter x 1,340mm wide cylinder on the five walker machines. This Hi-Ineria cylinder and heavy-duty concave are able to effectively thresh a wide range of crops with ease. The weight provides high momentum to absorb peak loads and maintain threshing performance. The concave has independent front and rear concave adjustment, which means operators can set the gaps to exactly match the conditions, and without leaving the seat. It can even be set parallel if required.
All MF Beta combines also feature a Rotary Separator and concave, to further enhance the combines' separating performance and multi-crop abilities. This MF design also offers the unique facility to flip the concave out of work when not required for crops and conditions that do not require enhanced separation. This helps to optimise the sample and straw quality in dry conditions.
The MF 7260 and MF 7260 AL models have five straw walkers, while the MF 7270 and MF 7270 AL are equipped with six. The closed-bottom walkers are all hot-dip galvanised for longevity, and the first sections are strengthened to handle the heavy straw loads.
The walkers feature four steps with 'Active walls' that use punched grids on the steps' vertical sections to improve porosity by providing a greater open surface area. This helps quickly sort the grain from the straw, which results in higher outputs with lower losses.
High divisions on the grain pan prevent grain bunching at the sides, and ensure it is spread evenly across the full width, particularly when working across slopes. A full width electrically-adjustable fan allows operators to alter air flow to suit all crops and load, ensuring high quality samples in all conditions. Any returns are fed back to the main cylinder for rethreshing.
Grain tank capacity 8,000 litres on the MF 7260 AL and MF 7270 AL, and an impressive 9,000 litres on the standard MF 7270. An unloading rate of 105 litres/sec empties the tank in just over a minute, helping to reduce interruptions and maximise harvesting time. The auger height is 4.45m. New metal grain tank lids can be opened from the cab, to help increase field capacity and are quickly closed to prevent accidents with overhead obstructions.
Straw choppers are an in-house design, built specifically for these combines. Adjustable stationary knife, serrated knives and fully adjustable hood all ensure the unit produces a superb chop quality for speedy decomposition of crop residue.
MF Activa - high performance from straightforward operation
The three Activa combines are powered by the latest electronically controlled engines that produce 220hp on the MF 7244 and MF 7245 - both of which are five-walker machines, and 255hp on the six-walker MF 7246. All models benefit from a hydrostatic three-speed transmission for maximum harvesting efficiency.
The excellent XL cab offers high driver comfort with standard air-conditioning, heating, deluxe suspended seat and electric mirrors. The cab is isolated on rubber blocks to eliminate noise and vibration and really does set the standard for combines of this class. All the controls come to hand easily thanks to ergonomic layout with, as previously mentioned, electro-hydraulic operation of the threshing system, cutting table and unloading auger.
All direction, speed and table functions are grouped conveniently on the multi-function lever for simple, comfortable operation and adjustments. The 'Agritronic' monitoring system, which provides a comprehensive picture of combine functions in an easy-to-read display, offers peace of mind for operators.
The standard Freeflow table, in cutting widths of 4.2m - 6.6m - features a welded frame with bolt-on panels (such as the table bottom plates) for simple, low-cost maintenance. The Schumacher knife and gearbox offer high cycle speeds and self-cleaning and has a superb reputation for reliability and performance, particularly in difficult conditions.
Automatic cutting height control is standard to maximise performance over all terrain. For ultimate performance is the option of MF's Autolevel table feature, which allows the table to follow changes in land contour of up to 8%.
Threshing is by a 600mm diameter x 1,340mm wide cylinder on the five walker models and 1600 mm wide on the six walker, which provides high momentum to absorb peak loads and maintain threshing performance, even in high loads. Like the Beta machines, independent front and rear concave adjustment means operators can set the concave to exactly match the conditions, and without leaving the seat. It can even be set parallel if required.
The special 'Active Beater Concave', fitted at the rear beater, increases the concave area (with an extra 14° of wrap) for extra threshing, if required. This system can also be adjusted to control straw flow onto the walkers from the rear beater. Setting this to match the straw length and moisture level, allows operators to optimise flow onto the walkers, helping to optimise performance.
The High Step (200mm plus), closed bottom-design straw walkers have four steps for fast and vigorous separation. Punched grid 'active walls' provide extra open surface area for efficient separation and maximum 'porosity' of grain flow away from the walkers.
A full width electrically-adjustable fan provides clean air to the high performance sieves ensuring an excellent grain sample in all conditions. The High Performance sieves offer high capacity cleaning in all crops, helping to deliver a top sample to the grain tank all the time.
Grain tank capacity is 7,000 litres on the MF 7244 and MF 7245 and 7,500 litres on the MF 7246.
The straw-chopper, designed in-house provides a clean chop and low power requirement. It features serrated knives, fully adjustable stationary knife and adjustable chopper hood to provide the chop needed to ease following operations. Electrically operated deflectors and a chaff spreader are available as options.
The Activa is built on a strong chassis, which provides a rigid backbone for the combine components. This inherent strength provides a long service life and durability helping to lower ownership costs. The practical approach to the combine design also helps ease access to maintenance, ensuring the combine keeps working for longer.